Whether it's hurricanes, high winds, extreme heat or cold, every utility faces its own set of weather-related issues that can leave customers in the dark. As more energy companies use social media to reassure customers and share updates, some utilities may be wondering if they're posting the right information, at the right time, on the right channels, or even reaching the right customers.
Is outage communications part of your social media strategy? We've compiled some of the industry's best examples of storm preparation and outage communications on social media from across the United States.
Preparing for storms: How-to videos on YouTube
Help ensure your customers know what to do in case of emergency. San Diego Gas & Electric (SDG&E) made a helpful YouTube video showing how one family prepared an emergency kit. For many people, the list of standard emergency kit items may not be enough. Watching a video demonstration may get the point across. The video also demonstrates an evacuation, reminding viewers that friends and family members outside the emergency area should be a point of contact to relay information whenever possible. Watch the video below:
In the eye of a storm
Twitter is a real-time emergency communications channel — and utilities are using it with much success. See this post from Hawaiian Electric: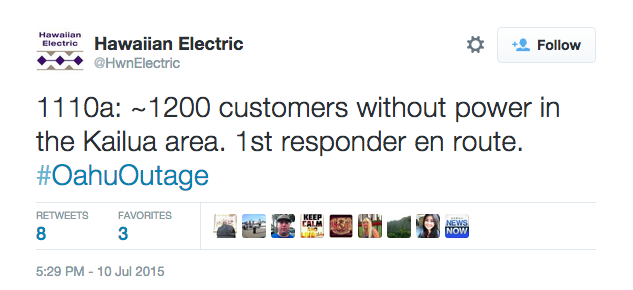 Using Twitter, Hawaiian Electric let customers know the exact time, area, and number of customers without power. By including a unique hashtag, in this case, #OahuOutage, the utility — and all followers plus those keeping an eye on posts that included #OahuOutage — could stay up to date as conditions changed rapidly and crews were dispatched.
Live on the web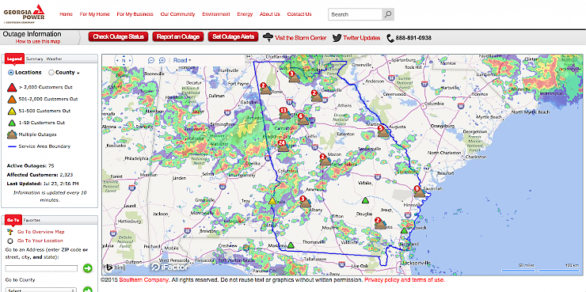 Georgia Power customers can view outages in their state (and zoom in for local ones) using the outage map on the company's website. The map includes a weather overlay for customers to see if storms have passed or more are on the way. The key on the left shows customers how many outages there are in a particular area.
After the storm
Once the worst of a weather event has passed, utilities tend to let customers know about any remaining limited outages and the restoration process and timeline. Frequently these updates will be posted on a utility company's primary Facebook page, like this one from PSE&G: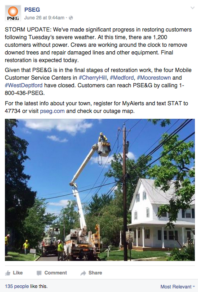 This post is especially productive because it includes a picture of crews working to restore power.
Likewise, CenterPoint Energy kept customers updated via Facebook in May when the power went out and crews were dispatched. Often, images tell the full story — and customers can rest easier knowing workers are on top of it.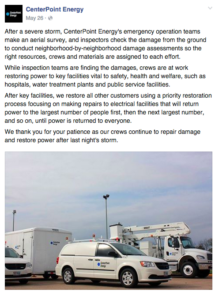 A picture's worth 1,000 words
Duke Energy provides a visual representation of the restoration process for their customers on their website. This helps customers who are visual learners and prefer to see the process in a graphical format.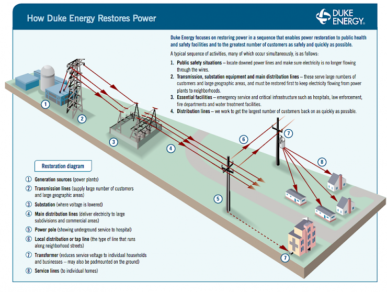 Share your best practice communication ideas!
Tell us how you're handling outage and storm preparation communications this year. We'd love to hear your ideas, check out your social sites and see what you're doing to keep your customers informed when storms or an outage interrupt their service.