When severe weather threatens, your energy utility may need to send power outage notification emails to customers. To level-set customer expectations and ensure long-term customer satisfaction, your outage communications strategy shouldn't wait until an outage happens.
Optimize your outage strategy with an outage communication template that includes useful information and resources customers will need before, during and after a severe weather event.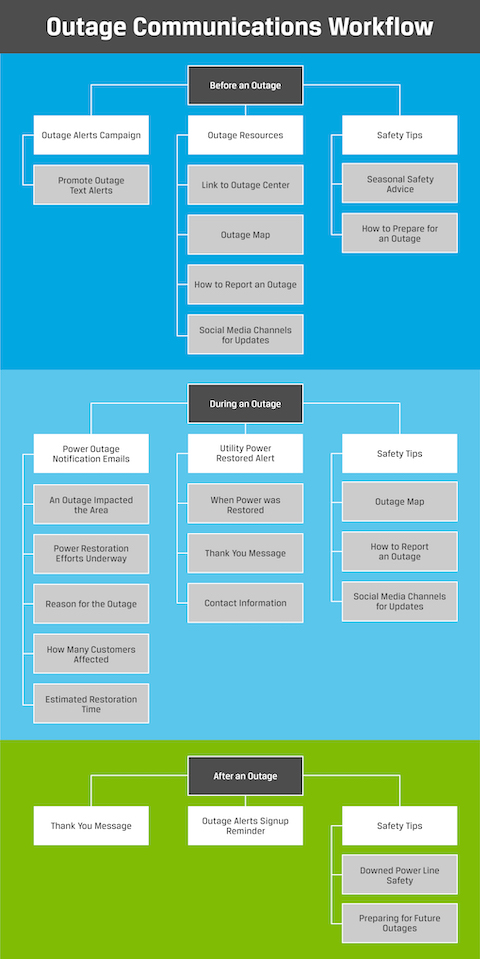 A Surge in Severe Weather
In recent years, extreme weather has become more common across the U.S. According to the National Centers for Environmental Information, the U.S. averaged 17.2 severe weather events per year from 2017 to 2021, including flooding, severe storms and wildfires. In comparison, between 1980 and 2017, there was only an average of 7.4 severe weather events per year.
This trend can be seen in the growing popularity of power outage notification emails sent by energy utilities from coast to coast. According to Questline Digital's Energy Utility Benchmarks Report, customers are highly engaged with outage communications, with a 27.1% open rate for residential customers and a 36.6% open rate for business customers.
Outage messages are consistently among the highest open rates of all utility email categories: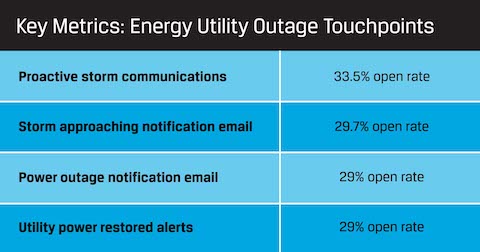 Energy utility customers value storm and outage-related messages. As storm intensity continues to grow, an effective and customer-centric outage communications template will become even more vital for energy utilities.
Power Outage Communication Template: Before the Storm
While you can't stop severe weather, you can help your customers prepare for it. An effective outage communication template should include an introduction to your energy utility's outage resources, seasonal safety tips and other useful information.
This is the perfect time to educate customers about your energy utility's outage resources and services, such as where to go to find the latest outage information or how to report an outage.
3 key topics for pre-storm communications
Outage alert opt-ins: Encourage your customers to sign up for outage alerts with a proactive, omni-channel preparation campaign.
Outage resources: Educate customers about your energy utility's online resources, directing them to your outage center or outage resource page.
Seasonal safety tips: Share summer and winter storm safety tips, as well as how to prepare for a power outage.
With the help of Questline Digital, a Southeast energy utility created a powerful creative campaign as part of their outage communication template. The goal was to inspire customers to receive text alerts and not feel powerless during an outage.
The campaign targeted customers who were not already signed up for text alerts with messaging focused on the benefits of real-time notifications like utility power restored alerts.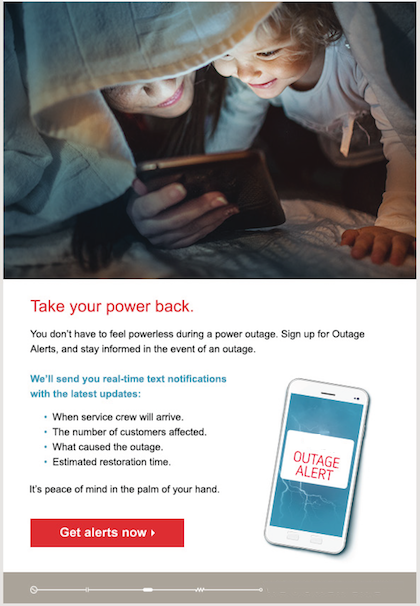 Power Outage Communication Template: During the Storm
When an outage happens, urgency and transparency are key. It's important to share updates as quickly as possible with customers across multiple channels, including power outage notification emails, text alerts and social media.
During an outage, customers appreciate acknowledgement of the situation from their energy utility, along with ongoing updates to keep them informed. Energy utilities can educate customers on the important steps involved in restoration, from assessing the damage to addressing emergency situations. This gives customers a better understanding of what it takes to restore power.
Build trust with transparent outage updates
Your outage communication template should include the following information during an outage event:
Storms are coming: Inform customers that severe weather is expected and could lead to outages. Don't forget to provide storm and outage safety tips.
Outages have impacted the area: Provide as much detail as possible to affected customers in a power outage notification email, including the extent of the outage and number of customers impacted.
Power restoration efforts are underway: Communicate regularly on restoration efforts and when customers can expect power to be restored.
Reason for the outage: Transparency is key. If the cause is determined, share this additional information with customers.
Power has been restored: Thank customers for their patience with a utility power restored alert. Be sure to include contact information in case they are still experiencing issues with their electricity.
Whether storm prep or outage resources, there is no one-size-fits-all for your outage communication template. In this sample outage notification from Con Edison, the energy utility provides customers with an "Outage Recovery Guide" in the midst of an outage: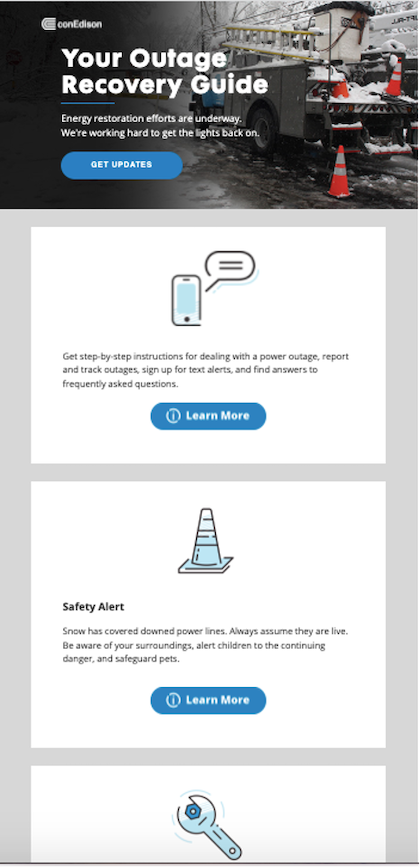 A sample outage notification from PSEG Long Island is a great example of transparent communications. The email explains the reason for the outage — in this case, a major snowstorm. The energy utility then acknowledges that power restoration may take time due to the dangerous driving and outdoor working conditions.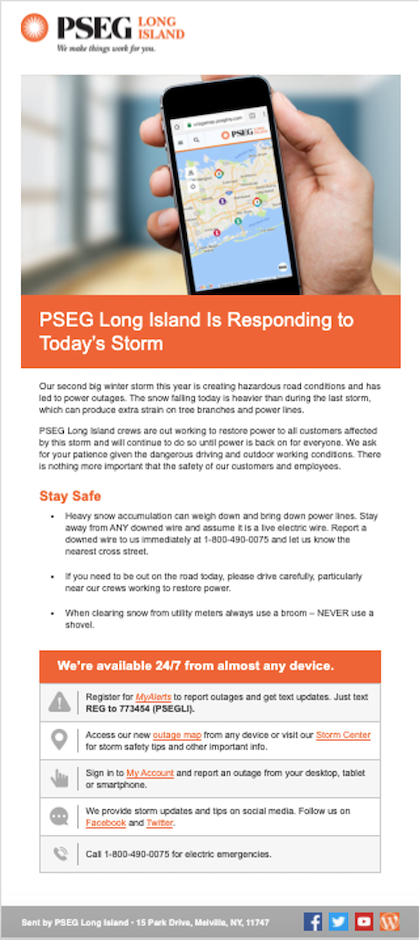 Power Outage Communication Template: After the Storm
After an outage event, your energy utility should reevaluate your communication strategy to see what is and isn't working. Keep these questions in mind:
What channels are best to communicate outage information?
How many power outage notification emails should our energy utility send?
When should outage updates be sent?
Are we communicating enough information to customers?
Your outage communication template should include a follow-up email a couple days or weeks after an outage. This is a great opportunity to encourage your customers to sign up for outage text alerts, ensuring they are prepared for future outages. With the outage still top of mind, this email creates a compelling motivator for customers to sign up for alerts.
A large IOU in the Northeast sent a thank-you email to customers for their "kindness, patients and resiliency" after a gas supply interruption that presented significant challenges: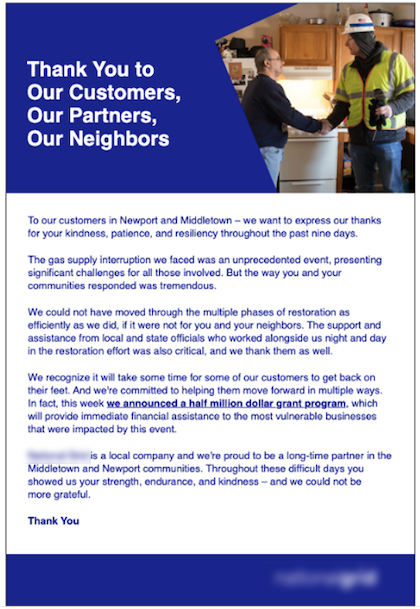 Get Ready for Severe Weather with an Outage Action Plan
Effective outage communications requires much more than a simple power outage notification email. Be proactive with outage communications to ensure customer safety, encourage engagement and increase customer signups for outage-related programs.
The right outage communication template can help your customers find peace of mind when the power goes out — and help your energy utility achieve long-term customer satisfaction.
Provide essential information before, during and after severe weather with an outage communications strategy from Questline Digital.