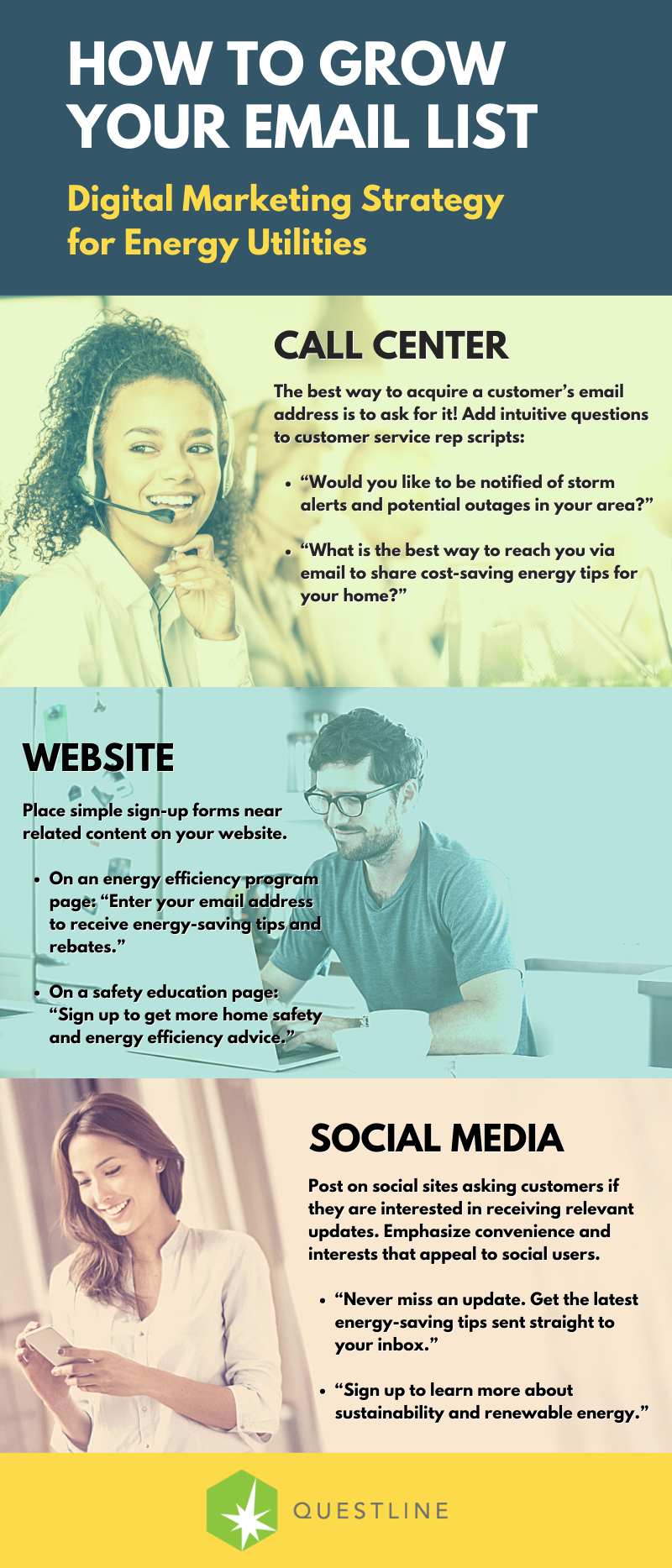 Email is an extremely effective channel for energy utility communications. You can quickly reach a lot of customers and also deliver personalized messages to specific segments. You can maintain a consistent customer touchpoint with an email newsletter and then leverage that engagement with targeted program promotions.
However, you can't accomplish any of these things if you don't have email addresses for your residential and business customers. That's why list growth is often the first step of an email marketing strategy. Here are three ways your energy utility can use other channels to acquire customer email addresses.
Call center
One of the best ways to acquire a customer's email address is to just ask for it! Add intuitive questions to customer service rep scripts that demonstrate the benefits of receiving email from your utility. For example:
"Would you like to be notified of storm alerts and potential outages in your area?"
"What is the best way to reach you via email to share cost-saving energy tips for your home?"
Website
Customers are already visiting your website to learn about their energy use or seek out cost-saving programs. Take the opportunity to remind them that you can deliver this content directly to their inboxes.
Add simple email signup forms to your website that correspond to the content on each page. For instance, on an energy efficiency program page you could suggest, "Enter your email address to receive energy-saving tips and rebates." The call-to-action on a safety education page might be, "Sign up to get more home safety and energy efficiency advice."
Social media
Your Facebook, Twitter or Instagram followers might not realize they can also get relevant updates delivered via email. When you post on social media sites asking customers if they are interested in receiving updates, make sure you emphasize convenience and interests that appeal to social users. For example:
"Never miss an update. Get the latest energy-saving tips sent straight to your inbox."
"Sign up to learn more about sustainability and renewable energy."
With these tips you can add to your list and reach even more customers, taking advantage of the power to deliver targeted promotions and content with email marketing.
Is your utility welcoming new customers by asking for their email address? Learn how to build a strong relationship from day one with a Welcome Series.