Email newsletters are a great way to keep residential and business customers engaged with your energy company. As a relevant and reliable channel of communication with your target audience, eNewsletters provide a steady stream of content that's free of sales pitches and full of interesting and helpful information.
Unsure if a monthly eNewsletter would benefit your customer engagement strategy? Let's walk through the top six reasons you should be sending one.
6 Benefits of a Monthly eNewsletter
Regular touch point = consistent engagement
Establish credibility and authority
Boost overall engagement
Share updates on new programs and services
Create segments, improving the customer experience
Customer insights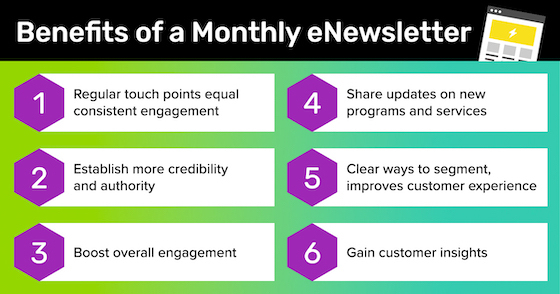 Consistent engagement
Email newsletters have consistent engagement because they are an ongoing touchpoint. Instead of an ad-hoc promotional offer, eNewsletters are a push of relevant content that keeps readers engaged month after month.
Customers see value in eNewsletters because the information makes a difference in their daily lives, like energy savings tips or resources about solar panel installation.
Those same eNewsletter readers — your engaged audience — are then more likely to open promotional messages and click on program information.
Questline Digital's Benchmarks Report data shows that readers who have engaged with at least one eNewsletter will have a 9.5% higher open rate on future messages compared to those who don't receive a newsletter.
Energy utility customers who have engaged with multiple eNewsletters have a much higher engagement rate with marketing and transactional campaigns compared to the overall benchmark. These customers also open campaign messages at a 26% higher open rate.
Customers who have engaged with at least one piece of content in an eNewsletter click on standard promotional campaigns 50% more often than the benchmark. Those who have engaged with multiple pieces of content across eNewsletters click on standard promotional campaigns at two times the benchmark rate.
Establish credibility and authority
Since eNewsletters are mostly non-promotional, they are a great tool for building customer relationships. One of the largest benefits of a monthly eNewsletter is the opportunity to showcase thought leadership and provide valuable and interesting content without "selling" to your customers.
When establishing your utility as a news source for renewables, energy efficiency and other complex energy topics, you naturally grow trust with your audience. In a world of constant misinformation, becoming the trusted authority on energy is essential.
Boost overall engagement
Program promotions are more effective with customers who are engaged with consistent eNewsletters. In fact, Questline Digital Benchmark Report data shows that the open rate of promotional emails is 21% higher among eNewsletter readers and overall engagement is 52% higher with these customers.
Additionally, eNewsletter subscribers are easier to connect with during a time of crisis, a fact learned during the coronavirus pandemic. Newsletter readers opened coronavirus communications at a 16% higher rate and had a 53% higher click-through rate compared to non-newsletter readers.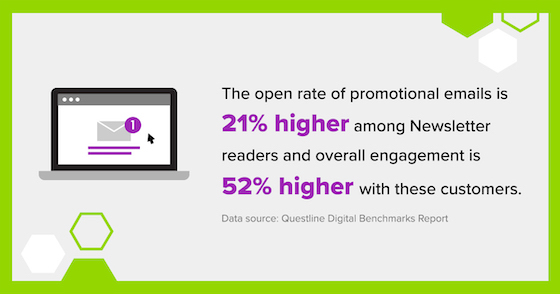 Get more program conversions
Beyond improving customer engagement, an important benefit of a monthly eNewsletter is its ability to drive more program enrollments. Unlike standard marketing campaigns, newsletters allow energy utilities to promote programs in a less direct way, starting with education through content.
Data from Content Marketing Institute shows that 70% of consumers prefer to learn about a product or service through content rather than traditional advertising. By customizing content with links to related programs, energy utilities can generate significant traffic to areas of interest, such as MyAccount and program enrollment landing pages.
Additionally, there is room for eNewsletters to be promotional about 10% of the time. Questline Digital clients have seen success when including "ad snippets" or banners that link to program landing pages. Once trust has been established with the other 90% of the newsletter content, customers are warmed up to the idea of seeing occasional promotional messages.
For example, Southwestern Electric Power Company (SWEPCO) used its residential newsletter to boost awareness of energy efficiency programs. Mixed in with informative content, SWEPCO incorporated promotions for its energy efficiency programs, driving customers to state-specific enrollment information.
The utility saw an influx in program participation and tracked an increase in activity on its website each time the newsletter was deployed. With the use of this monthly touchpoint, SWEPCO was able to meet its program goals and positively impact customer satisfaction.
Designed for segmentation
Newsletters are an ideal digital channel to segment audiences by subscriber interest. For example, you can use eNewsletter performance metrics to establish a cohort of customers who are interested in electric vehicles. This allows you to either create an EV-specific eNewsletter or send a one-off email with program or rebate information to a highly targeted audience.
For business customers, you can create segmented audiences based on industry. Different industries have vastly different energy needs. By providing newsletters with industry-specific content, you can boost engagement and develop a deeper relationship with your business customers. We have seen engagement increases of up to 84% for Key Accounts eNewsletters segmented by industry.
Gather customer insights
As mentioned above, engagement data is an important benefit of monthly eNewsletters. You can use this information to record customer behavior and take note of specific interests. Not only can this data be used to create segmented eNewsletters, but it can also be applied to program promotions and other outreach efforts.
By looking at newsletter engagement, your utility can better understand what each customer cares about and where they are in their journey. If they are viewing basic information about smart thermostats, for example, you can discern that they are at the beginning of their research. With this information, you can enter the customer into promotions that include the appropriate content and benefit messaging, greatly increasing the likelihood of conversion. After a purchase, you can then follow up with information about time-of-use rate plans or other ways to benefit from their smart device.
Launch Your eNewsletter, Boost Engagement
Email newsletters are an essential part of an energy utility's customer engagement strategy. This consistent communication channel can build long-term relationships with your customers while also increasing enrollment in your programs. From content marketing to segmentation, eNewsletters are a versatile tool to keep your customers engaged over the long haul.
Learn how your energy utility can benefit from a monthly eNewsletter as part of your customer engagement strategy.