After new customer onboarding, energy consumers are accustomed to receiving billing notices and outage alerts from their utility. While these are essential messages, you need more than just transactional communications to build a long-term positive relationship. Anniversary emails can help increase engagement by recognizing a meaningful touchpoint in the customer lifecycle.
What is a customer anniversary email?
Anniversary emails celebrate a customer's annual milestone with their energy utility. A customer's anniversary offers a chance to reach out one year post service enrollment and show that you care.
We recommend sending an anniversary email one year after a customer receives their first Welcome Series message. An easy addition to your email marketing strategy, these personalized messages are automatically sent to customers when they reach the one-year milestone.
Why should you send a client anniversary message?
Customer and client anniversary messages are known to boost engagement. Questline Digital data shows that customer anniversary emails achieve an 89% higher open rate than our baseline.
In addition to providing a reason to connect with customers, anniversary emails help to humanize your energy utility — something not possible with a program promotion or other transactional messages.
They are also the perfect tie-in with content marketing.
In addition to the celebratory message, you can share seasonal energy savings tips or promote a product. If a customer hasn't yet used a service, this is a great time to remind them of what's available or what's new.
Make it extra personable by including a special discount and/or overview of individual energy use over the last year.
A customer anniversary email is especially great for first-time homeowners or customers that finally moved into the home of their dreams. Moving is a major milestone in everyone's life and sending an anniversary email that offers congratulations, assistance and remembrance stands out. Your customers will appreciate this personalized message.
Customer anniversary email examples
Check out these anniversary email examples. They include a mix of product promotions, personalization and thanks.
Wemo
Wemo reaches out to customers one-year post initial purchase to offer a unique discount code. This not only reminds customers of their previous purchase, but it also highlights how they can continue turning their home into a smart hub with other Wemo products.
SHIPT
The grocery delivery company uses its annual client anniversary message to recognize accomplishments and encourage continued account growth. They highlight a customer's key moments in the past year, making the recipient feel proud of the work they've done while also showcasing where they might have room for improvement.
Utility example
This Southwest utility says, 'thank you' and directs customers to available resources to help them save on energy. Just because a customer is celebrating their anniversary doesn't mean they know about every available tool or program – it's essential to remind them. The message is also populated with the customer's name to make it more personal.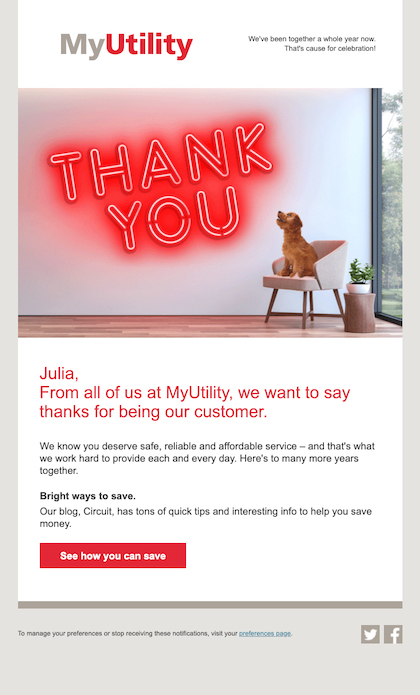 Airbnb
Airbnb follows up with customers a year after they sign up for booking services to suggest travel destinations. Sometimes a timely reminder is all a customer needs to prompt action. Don't miss the chance to celebrate your customer anniversary and encourage deeper engagement.
Setting up automated anniversary emails
When building your onboarding email cadence, add a customer anniversary message to the workflow. An anniversary email should be scheduled 365 days after your first Welcome message.
This added touchpoint makes customers feel special, gives your utility an opportunity to promote important content and services and is proven to boost overall engagement.
Learn how a Welcome Series and Anniversary Emails can build strong digital relationships with your energy utility customers.