In today's rapidly evolving utility landscape, keeping employees up to speed with the latest industry trends and best practices is essential. For energy utility program managers and key account managers, the need for continuous learning is even more critical to ensure they have the tools to understand customer needs and build customer satisfaction. One effective solution is using webinars to train utility employees.
Using webinars for training offers an opportunity to deliver complex information in an engaging manner. Regardless of the location of the employee or their schedule, webinars for utility employees can provide evergreen content in an engaging format that can be presented live and recorded for on-demand viewing.
The Educational Potential of Webinars for Utility Employees
Webinars are live, online educational presentations where viewers can submit questions and comments in real time. Using webinars for training allows participants in different locations to see and hear the presenter, ask questions, and engage with the content, irrespective of their geographical location or time zone.
"There's a level of engagement that's available in a live webinar experience that cannot be matched by just watching a video or reading an article," says Chris Loehrer, Questline Digital Webinar Manager. "You can do real-time Q&A, you can provide real-time resources to the attendees to increase their value proposition for you."
The concept of webinars dates back to the 1990s when software was developed to enable business conference calls. Since then, they have grown into a prevalent tool for organizations to share information and connect with vast audiences.
In the context of energy utilities, using webinars for training can be particularly powerful. They provide a platform for program managers, key account managers and marketers to deliver complex industry-specific information in an interactive format. Whether it's about the latest renewable energy technologies, regulatory updates, or demand response programs, webinars can effectively bridge the knowledge gap, foster dialogue and facilitate learning.
"While customers have goals they're trying to reach as an individual, employees have goals that they're trying to reach as an organization," says Loehrer. "Webinars allow for an active learning experience for both groups and are particularly effective training methods."
Webinars offer a perfect blend of convenience and interactivity. In an age where utility key account managers need to "have all the answers" for their customers, webinars for utility employees provide an easy way to access that information. They allow energy utility professionals to stay updated with the industry's fast-paced changes without disrupting their schedules. Plus, the real-time interaction of webinars enables immediate clarification of doubts or questions, promoting a deeper understanding of the topics discussed.
Why Webinars are Ideal for Utility Employee Training
Using webinars for training is becoming increasingly popular, and for good reason. For one, they offer unparalleled convenience in terms of location and time flexibility. Unlike traditional in-person seminars or conferences, webinars eliminate the need for travel, allowing employees to participate from anywhere with an internet connection. Plus, webinar platforms offer the option to record sessions, meaning that employees can access the training materials at a time that suits them best, creating an array of evergreen content for employees to use in the future.
"Webinars exceed other methods of education," says Loehrer. "They give context to content that's hard to translate in, say, a whitepaper. You can't beat live or video content. Plus, articles, infographics and whitepapers can all be integrated into a webinar event. I see webinar events as a launch point for continued content."
Webinars also have the capacity to reach multiple employees simultaneously. This scalability makes webinars for utility employees a cost-effective training solution. Whether your utility is using webinars for training 10 employees or a thousand, the cost effectively remains the same. Plus, the ability to deliver consistent training to all employees ensures that everyone gets the same information, reducing discrepancies in knowledge and skills across your utility.
A Southeast utility, for example, utilized Questline Digital's webinar program to increase training opportunities for its account managers. With a one-person training team and busy internal subject matter experts, the utility simply didn't have the time or resources to produce quality educational assets for its 300-plus employees.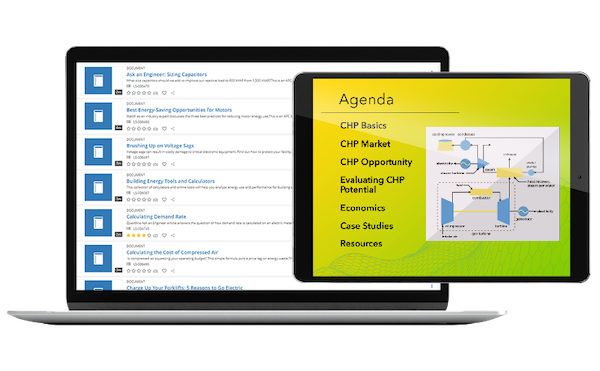 By producing webinars for a wide range of industries that its account managers worked in, such as architecture and manufacturing, the utility's account managers were able to stay engaged in topics that interested them, while also learning on their own time and at their own pace. The webinars were also recorded and made available for account managers to access on-demand for continuing education unit (CEU) credits.
The interactive features of webinars for utility employees are key: encouraging active participation, which is critical for effective learning. Most webinar platforms support real-time Q&A sessions, polls and surveys, allowing employees to engage with both the content and the presenter. This two-way communication fosters a more dynamic learning environment, promotes deeper understanding, and makes the training more enjoyable and engaging.
"You have to consider — would you enjoy this webinar experience?" says Loehrer. "The focus needs to be on the content and the execution of the content. You need to make it as engaging as possible to keep the attention of those who it's mandatory for, but also attract the people for whom it's optional."
How to Effectively Implement Webinars for Employee Training
Webinars for utility employees are a flexible, scalable, and interactive tool for training and education. Whether it's sharing industry best practices, discussing emerging trends or teaching new technologies, webinars enable utilities to reach a wide audience and make a significant impact on their employee and customer engagement.
Implementing webinars for utility employees involves careful planning and execution. You have to use expanded resources — there are too many specialties and integrations available in a webinar experience. Having someone who is dedicated and has the expertise to leverage, guide and develop a webinar experience for your utility will help drive its success.
Loehrer says there are a few things to consider when planning a webinar:
Know what your attendees need to know in the next three, six and 12 months
Establish and align your webinar to the goals you're trying to achieve
Outline the curriculum and the time frame
Brainstorm different formats to vary the type of delivery
Consider what subject matter experts you can include or interview
Build a story arc that can help you in developing further training series
Additional elements to consider when developing webinars include:
Choose a reliable webinar platform that suits your organization's needs. Questline Digital's webinar platform, for example, offers various features like screen sharing, real-time Q&A and recording capabilities.
Decide on the topic of your webinar and prepare a clear, concise presentation that covers this topic in depth. Remember to include a mix of different content types, such as slides, videos and live demonstrations, to keep the session interactive and engaging.
Practice, practice, practice. The importance of holding a dry run of the event can't be overstated. Dry runs allow your utility to ensure your presenters feel comfortable and ensure any technology difficulties are settled behind the live event.
Keeping your audience engaged during a webinar presentation is crucial for effective learning. One way to achieve this is by encouraging active participation. Questline Digital often uses polls and surveys throughout the webinars to gather instant feedback and maintain audience interest. Plus, a designated Q&A time toward the end of the webinar lets audience members get their questions answered in real time. After the webinar, provide downloadable resources such as the presentation deck to those who attended as well as those who registered but didn't attend live.
Loehrer says that using the text chat feature during a webinar event is essential. "People love to ask questions anonymously, they love to read other people's questions and see answers from the experts," he says. "They love to have a certain amount of levity without any pressure, and then all that data that's collected in a chat is qualifiable data to use in your follow-up communications."
Additionally, it's important to develop and promote webinars in a way that makes attendees want to come back for more. "You should be serializing your content. Don't have a customer come and only watch one and think they're getting their entire knowledge base from one event," says Loehrer.
The effectiveness of using webinars for training can be seen in other qualitative and quantitative ways. Gauging attendees' interest by their poll responses and questions is one way. Another way is reviewing the metrics of the webinar, including:
Registrations
Attendees
Registration-to-attendance rate
Average time in the room
Average time engaged
By understanding these metrics, your utility can better prepare future events to boost engagement and education amongst employees.
What's Next for Webinar-Based Utility Training?
The future of using webinars for training in the energy utility industry is promising, with digital learning and webinars becoming increasingly prevalent tools for knowledge sharing. According to a report by the Electricity Markets and Policy Group, webinars on various energy-related topics, including renewable energy, electric system planning and energy efficiency, are becoming more common. These webinars not only provide information on the latest developments but also allow for interactive discussions on emerging trends and challenges.
The growing demand for flexible, remote learning solutions suggests that webinars will continue to be popular. As the utility industry continues to evolve, so too will the need for ongoing education on new technologies, regulations and best practices. Using webinars as a training tool offers a scalable, cost-effective solution for meeting this need. By using webinars for training, utilities can ensure that their employees stay informed, skilled and ready to tackle the challenges of the future.
"You only have one chance to make a first impression. Don't haphazardly jump into content delivery," says Loehrer. "It's about engagement, engagement, engagement. Make these topics interesting. Partner with someone so you can concentrate on the content and make it effective. You can't just go into this — you have to have a strategy in place or else it's going to fail."
Learn how Questline Digital's webinar solution can support your utility's employee training needs.