Outages don't have to derail your energy utility's customer experience. With the right outage communication strategy, you can help level-set customer expectations when the power goes out — and achieve long-term customer satisfaction.
Outage alerts by the numbers
Outage communications consistently achieve the highest open rates of all utility email categories, second only to Welcome Series. According to Questline's benchmark data, outage update emails sent to residential and business customers achieved a 33% open rate. Outage restoration emails experienced the highest engagement with an open rate of 55%.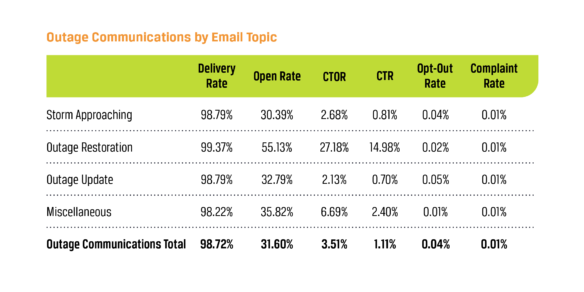 As you can see by these numbers, energy utility customers value storm and outage-related messages. Read on for tips on how to build a strategic outage action plan for your energy utility.
Get ready with an outage prep strategy
Your energy utility's outage communications strategy shouldn't wait until an outage happens. Instead, educate customers ahead of time on your utility's outage resources and services, such as where to go to find the latest outage information or how to report an outage.
This is also an ideal time to promote outage alerts to ensure customers are informed when an outage happens. These proactive communications give your customers easy access to important resources and helpful advice on outage safety.
Your outage prep email should include:
Outage alerts: Encourage your customers to sign up for outage alerts with a proactive, multichannel preparation campaign.
Outage resources: Educate customers about your energy utility's online resources, directing them to a comprehensive outage center or outage information page.
Seasonal safety tips: Share seasonal safety tips as well as how to prepare for a power outage.
Customer education: Inform customers of all the steps involved in restoration, from assessing damage to addressing emergency situations.
When the power goes out
During an outage, customers appreciate acknowledgement of the situation from their energy utility, along with ongoing updates to keep them informed. Be transparent and provide quick updates on multiple channels to reach customers, whether in their email inbox, text message or on social media.
For email communications, a mobile-friendly, responsive design is best to reach customers. In fact, 64% of residential customers and 54% of small business customers engage with outage emails on a mobile device.
Your outage communications should include the following information:
Storms are coming: Inform customers that severe weather is expected and could lead to large-scale outages. Don't forget to provide storm and outage safety tips.
Outages have impacted the area: Provide as much detail as possible to affected customers, including the extent of the outage and number of customers impacted.
Power restoration efforts are underway: Communicate regularly on restoration efforts and when customers can expect power to be restored.
Reason for the outage: Transparency is key. If the cause is determined, share this additional information with customers.
Power has been restored: Thank customers for their patience. Be sure to include contact information in case they are still experiencing issues with their electricity.
Power is restored. Now what?
After an outage, your energy utility should reevaluate your outage communication strategy to see what is working and what isn't. Keep these questions in mind:
What channels are best to communicate outage information?
How many outage updates should our energy utility send?
When should outage updates be sent?
Are we communicating enough information to customers?
We also recommend sending a follow-up email about 30 days after an outage. This is a great opportunity to encourage your customers to sign up for outage text alerts, ensuring they are prepared for future outages. With the outage still top of mind, this email creates a compelling motivator for customers to sign up for alerts.
Plan ahead for outages
Be proactive with outage communications to ensure customer safety, encourage engagement and increase customer signups for outage-related programs. Your customers won't feel left in the dark, and your energy utility will receive positive customer satisfaction scores.
Make sure customers are informed and engaged with an Outage Alerts solution from Questline.