More than 81% of Americans own a smartphone, yet many consumers still receive their utility bill through snail mail. For energy utility marketers, encouraging customers to go paperless is no easy task. Customers are accustomed to receiving paper bills — and old habits can be hard to break.
Useful Tips for Encouraging Customers to Go Paperless
According to a Utilities & Telecom Consumer Payments Insight Report, while 66% of customers receive bills by mail, only 48% prefer to receive them this way. This report also finds that 45% of customers prefer to pay via an online/digital payment service. In other words, customers might be used to paying their bills with checks and stamps, but they are open to more convenient options.
The first step to encouraging customers to go paperless is acknowledging the barriers that hold them back. Once you accomplish this, then your energy utility can find the e-Bill benefits that would provide a positive impact on their daily lives. Through our work with energy utility companies across the country, we have found these five effective strategies for increasing e-Bill conversions.
1. Debunk paperless billing security concerns
For some customers, particularly older generations, a major concern about paperless billing is payment security. They are worried that their personal information could fall victim to scammers online. To encourage customers to go paperless, reinforce the safety of paperless billing and how it is often more secure than dropping a check in the mail.
The reality is paper statements are not free of fraud risk. Mail can be delivered to the incorrect address or intercepted into the wrong hands. Be sure to highlight the steps your energy utility takes to ensure customers' personal information is protected.
2. Highlight payment reminders and other useful features
For many customers, paper bills are helpful reminders to ensure they pay their bill on time. Without a paper bill showing up in the mail each month, customers fear missing a payment. Encourage customers to go paperless by highlighting the convenience of email and text reminders.
Unlike paper statements, customers don't have to be at home to receive them. In fact, they can be on a beach vacation and receive a text reminder that their bill is due. With alerts sent straight to a customer's smartphone, paperless billing actually provides more effective reminders than old-fashioned paper bills.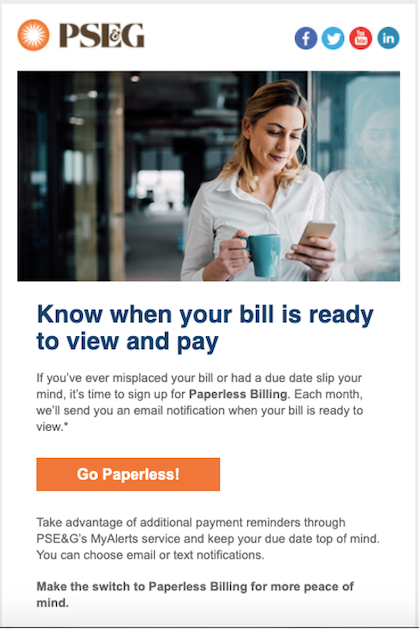 It behooves energy utilities to promote the other useful features, including easy access to current and past bills in My Account. Nowadays, everyone is looking for ways to reduce paper clutter and simplify their lives. Your customers will appreciate this convenient option for keeping track of their bills. Instead of storing paper bills in a filing cabinet or desk drawer, electronic statements are available in My Account for safe recordkeeping. You can encourage customers to go paperless by promoting these useful, yet lesser known, benefits of ebill.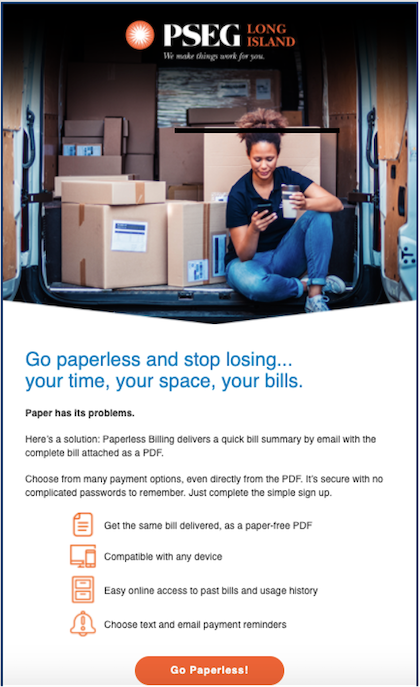 3. Showcase the convenience of ebilling
With our on-the-go schedules, everyone is looking for less stress and more convenience. One of the most popular benefits of paperless billing is the flexibility of "anytime, anywhere" online bill access.
Instead of waiting for a paper bill in the mail, customers can view their bill while waiting in line at a coffee shop or taking their dog for a walk. Emphasize the convenience factor in your email campaigns to encourage customers to go paperless, including the ability to view and pay their bill from any location.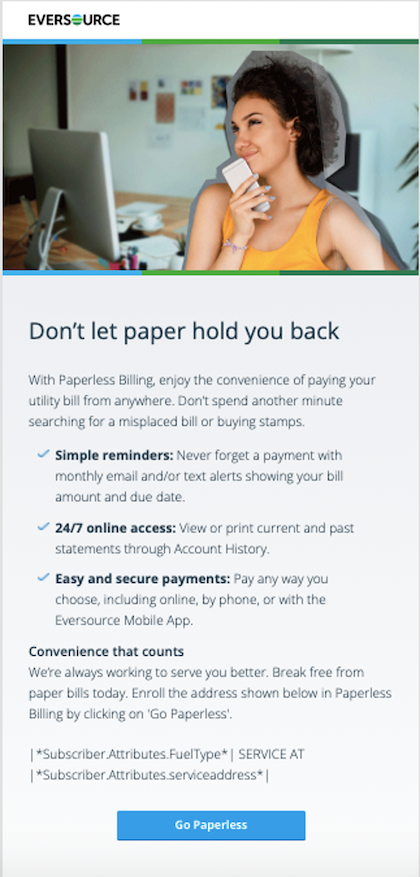 4. Make enrollment easy and quick
One of the biggest barriers to paperless billing adoption is a complicated enrollment process. Everyone is strapped for time in our 24/7 world — that's why your utility needs to make ebill enrollment as streamlined as possible.
Even if customers are finally ready to make the switch, a long and complicated enrollment process can stop them in their tracks. To encourage customers to go paperless, we recommend creating a one-click enrollment on your website or mobile app. Also, be sure to highlight the ease of enrollment in your promotional campaigns. For example, use language such as "enroll in 30 seconds" or "you're only one click away from e-Bill convenience."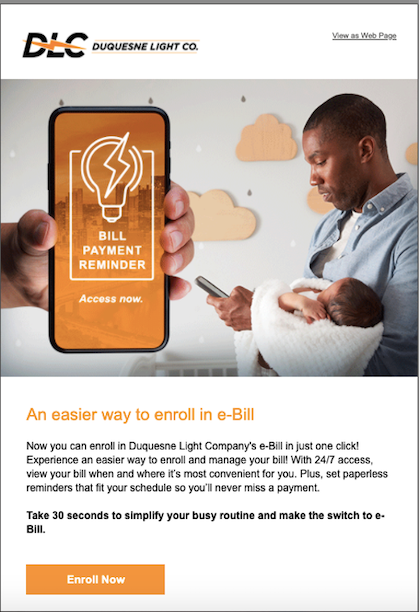 5. Educate customers about the environmental impacts of ebilling
Environmental concerns are top of mind for residential and business customers alike. Your ebill promotions should remind customers that going paperless not only has benefits for them, but for the planet as well.
Paperless billing plays an important role in reducing carbon emissions. In fact, turning a tree into paper (17 reams to be exact) releases around 110 pounds of CO2 into the atmosphere. Additionally, paper makes up around 23% of landfill waste. By showcasing the positive impact of ebill on the environment, your utility can go a long way to encourage customers to go paperless.
Keep in mind, not all customers are motivated by the environmental impact of ebill. In email campaigns, eco-friendly messaging should be subtle and mentioned along with other benefits like convenience or easy enrollment.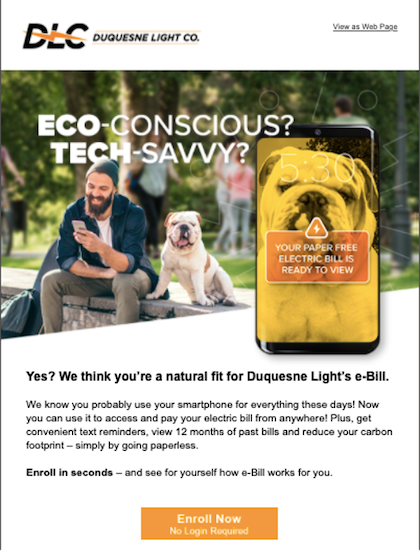 Break Barriers and Increase Conversions
While it can be a challenge to encourage customers to go paperless, it's not an impossible task. With the right messaging, your energy utility can help customers replace old habits with new ones.
Get more of your energy utility customers to sign up for paperless billing with a digital engagement strategy from Questline Digital.