Questline Digital's annual Energy Utility Benchmarks Report provides data and insights into customer engagement for energy providers across the country. In our recent webinar, "2022 Energy Utility Benchmarks Report: Data to Drive Your Utility Forward," Brian Lindamood, VP of Marketing & Content Strategy at Questline Digital, and Nina Cummins, Account Director at Questline Digital, offered their expert analysis and key takeaways from this year's report and the state of today's energy consumer.
Drawing from the Data
The report includes data compiled from 367 million email messages sent on behalf of energy utilities in 2021. It invites the reader to draw their own conclusion from the data, inspecting what metrics matter most and where their utility stands among others in the industry.
The report's key finding was that energy utilities successfully maintained the increased levels of customer engagement that were first seen in the wake of the COVID-19 pandemic.
"I suspected that I would be sitting here, a year later, explaining that engagement went down in 2021 because of the spike in 2020," Lindamood said. "But it didn't. Engagement was flat in 2021, but it was flat at record-high levels. That increase in digital engagement was not a blip, it's a new and lasting expectation that customers have."
Overall, municipal utilities achieved the highest open rate increase and co-ops gained the highest click rates of any utility type.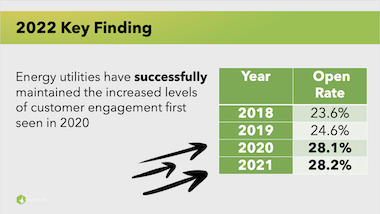 Update on Apple Privacy Changes
Due to Apple privacy changes, the 2022 Energy Utility Benchmarks Report may be the last annual report to classify open rate as a major indicator of engagement.
Lindamood explained that the Apple privacy policy implemented in the latter half of 2021 had slight impacts on engagement at the end of the year, including:
11% increase in open rates since September 2021
34% of opens flagged as "machine read"
Lindamood expects the Apple privacy changes to make a larger impact in 2022. In the meantime, he suggests that the industry move toward analyzing other key metrics instead, including click click-through rates and conversion rates, for a more effective way of evaluating engagement.
"The bottom line is we can't rely on open rates anymore. Period," Lindamood said. "Much more important are click-through rates and conversion rates — the actions customers take after opening a message."
Metric Breakdowns Per Category
The 2022 Energy Utility Benchmarks Report addresses key data points for energy utilities to analyze and compare their own performance to others in the industry. Questline Digital's speakers walked through some main highlights of the report, including:
Welcome Series
Program Promotions
Business Customer Engagement
Welcome Series
Welcome Series saw an extraordinary jump in open rates, with an overall 16% increase. This continues to prove that customers want and expect a warm welcome from their utility upon starting service. It's imperative utilities make a good first impression and provide customers with need-to-know information like how to sign up for My Account, paperless billing and more.
Subject lines in particular play a large role in determining whether customers engage with a Welcome Series. Many of the top performing subject lines include the utility name, which consistently draws engagement from its readers.
"What we have seen in the past is that customers who engage with a Welcome Series tend to be a lot more active with follow-up communications," Cummins said. "So really grabbing that customer when they first sign up for service is a way to get them in your fold."
Program Promotions
Rebate promotions had a sharp increase in engagement last year. Between 2020 and 2021 there was a 188% increase in CTOR for appliance rebate promotions.
Cummins explained that this increase is due to a desire for customers to develop more energy efficient homes. In fact, research finds that 56% of consumers find it "very important" to have an energy efficient home, but only 9% think their home is energy efficient.
"With a rise in home improvement projects during the pandemic, consumers were turning to their utility for advice and guidance to replace old appliances and the appliance rebate recycling programs helped to lead them there," said Cummins.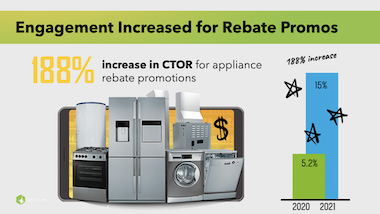 Business Customer Engagement
The 2022 Energy Utility Benchmarks Report revealed a split in business customer engagement: Key Account engagement decreased while Small and Medium Businesses (SMB) engagement increased.
17.7% decrease in open rate for Key Accounts
10.8% increase in open rate for SMB
As all business customers faced new challenges during the pandemic — with many large businesses still determining return-to-office plans — SMB customers more often turned to their energy provider for support and guidance.
"This is at least in part due to the different ways businesses have responded to the pandemic," Lindamood said. "Small business customers needed a lot of assistance, especially early on in the pandemic. And in addition to the government support programs that were available, they may have been reaching out to their utility for payment programs, efficiency advice or other ways to save. Large businesses didn't qualify for as much of the federal aid that was available, and yet many are still dealing with the effects of the pandemic."
Lindamood suggests using segmentation to communicate with Key Accounts customers by industry type. This ensures these time-strapped customers receive targeted, relevant information, which can make a large impact on engagement and performance metrics.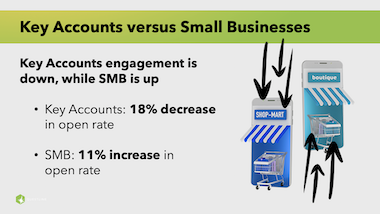 Data to Drive Your Utility Forward
Questline Digital's 2022 Energy Utility Benchmarks Report provides a guide for measuring and comparing digital engagement performance across the industry. The data can assist your utility in understanding how to build stronger connections with customers and evaluate the success of your engagement strategy.
Learn more about Questline Digital's 2022 Energy Utility Benchmarks Report.