As the new year approaches, marketing teams everywhere are planning their communication strategies to reach customers in 2022. For energy utilities, this is no different. It's a perfect time to reflect on what worked or didn't work in the past and revitalize your marketing efforts for the year ahead.
In our recent webinar, "2022 Email Marketing Best Practices & Trends," Bethany Farchione (Questline Digital) and Cynthia Price (Litmus) shared their forecast for design and marketing trends and how utilities can prepare to make the biggest impact on customers.
A Look Back at Last Year's Email Marketing Trends
Farchione began the webinar by taking a step back to discuss the email marketing trends Questline Digital saw in 2021, including:
Personalization and segmentation
Automated campaigns
Interactive emails
Bold/bright email designs
Multichannel marketing
"For 2021, the biggest thing we saw was a massive rise in digital adoption and digital communications," she said. "What's important as we move forward is maintaining and growing that engagement into the next year."
She explained that personalization and segmentation became major influencers, impacting nearly every communication as utilities tried to better target their audiences. "These trends are not going away in 2022," Farchione added. "We expect that they will continue to grow in importance, but we do see a handful of new trends being added."
A Look Ahead at Email Marketing Trends for 2022
Farchione proceeded to look ahead to the major themes of 2022:
Email marketing will continue to be extremely important
The goal for utilities is to keep engaging with the digital customers they acquired in 2021
Focus on continuing to improve digital services and experiences
"A new study from DMA Consumer Tracker says that 96% of consumers check their email every day and over 70% of consumers believe that email is the best channel for company contact," she said. "So, while email has been around forever, it's still really important within the customer communication mix. When done right, it's actually a conversation with your customers, which is really valuable and powerful."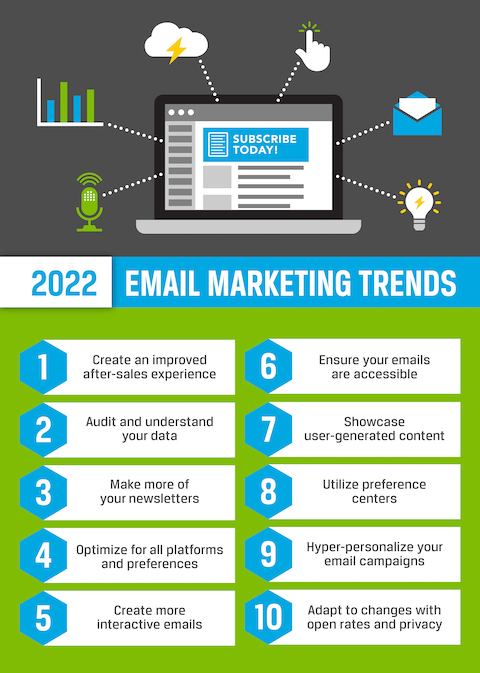 Farchione also shared the most important trends to watch in the coming year.
Top 10 email marketing trends of 2022:
Create an improved after-sales experience
Audit and understand your data
Accomplish more with your newsletters
Optimize for all platforms and preferences
Create more interactive emails
Ensure your emails are accessible
Showcase user-generated content
Utilize preference centers
Hyper-personalize your email campaigns
Adapt to changes with open rates and privacy
Create an improved after-sales experience
Farchione shared that customer journeys are becoming more important to pay attention to and targeting customers where they are in that journey matters. Research from McKinsey shows that customers are actually asking for, and want, an improved after-sales experience.
For utilities, building this improved workflow for customers will be especially important for program enrollment, onboarding and marketplace sales.
Farchione shared an example of a customer purchasing a smart thermostat and the importance for utilities to be part of that journey. "Following up with customers and having journeys for each interaction is essential," she said. "How do they install the thermostat? Do they need maintenance reminders? Do they need suggestions for future purchases? How do they make the most of that thermostat? Customers are looking for guidance."
Understand your data
Price reflected on the importance of segmentation and personalization for utilities and shared, "At the core of every great segmentation strategy is understanding and using your data effectively."
She recommends an annual audit to understand what data points are available and specify what your goal is for understanding that data. "Start with the key data points that you think will allow you to build customer segments and dynamic campaigns that will really give you a more effective experience."
Make more of your newsletters
Newsletters aren't new, but now is the time to go all-out with them. They've seen a resurgence of popularity in the past year and for good reason — they provide the foundation for ongoing customer engagement.
"We recommend that utilities focus on creating specialty newsletters for different interests that their customers may have. And since they are a foundation for engagement, we recommend sending them monthly. Customers are accustomed to getting monthly newsletters and when done right, they look forward to them," Farchione said.
"Newsletters are an amazing way to build trust over time," Price added. "Goals with newsletters are often less specific than for other campaigns, and they're a great way to build awareness and trust for brands in general."
Optimize for all platforms and preferences
Price explains that there is an overwhelming amount of data that shows that one bad experience in an email, whether a broken link or an image that doesn't render, can turn off a consumer to a brand. "It can have long-lasting negative effects," she said.
With the number of platforms available for users and the different requirements for each, it's essential to test for quality assurance to ensure everyone receives emails as they were intended.
In addition, coding for dark mode needs to be at the forefront of development. Dark mode has become increasingly popular in the past few years. In fact, Price shares that over 80% of consumers who use Apple devices use dark mode. Therefore, it's important to ensure your utility is checking how emails will look with dark mode rendering.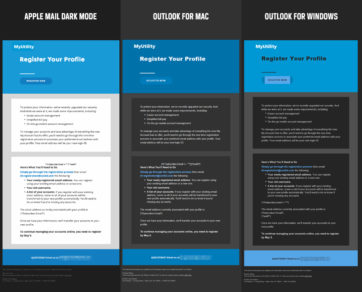 Create more interactive emails
Interactive email continues to rise in popularity. In general, interactive content includes surveys, calculators or games. For email, interactive content simply means adding interest and movement so your messages stand out to customers.
"People like excitement in their inbox. They're in their inbox every day so they need more visually exciting creative materials to keep their interest," Farchione said.
Plus, the data doesn't lie — interactive content is proven to generate five times more views than static content.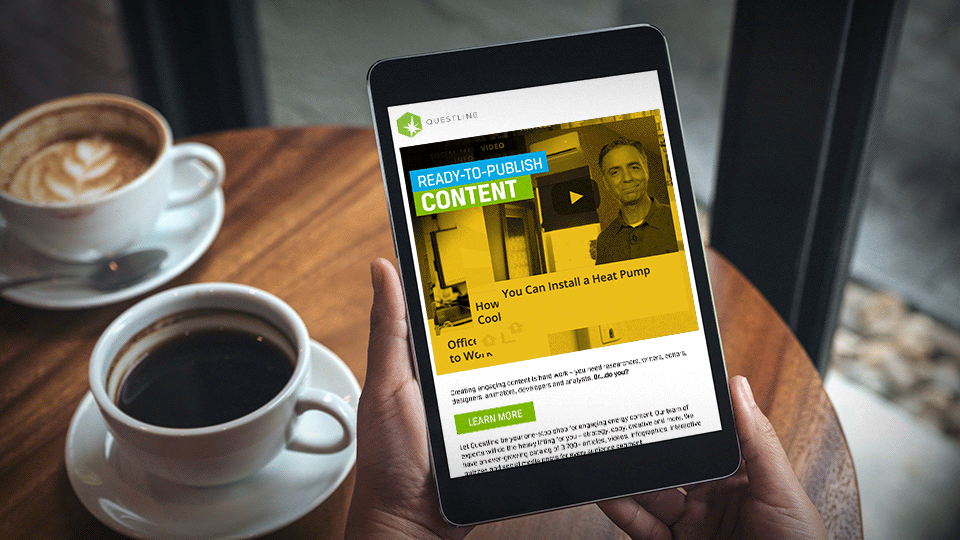 Ensure your emails are accessible
Focusing on email accessibility not only ensures that anyone is able to engage with the email, "it also makes the emails more pleasing and you see better engagement from all audiences when you use foundational accessibility techniques," Price said.
She shared some tips to make emails more accessible:
Copywriting: Keep it concise and limit jargon
Design: Create a strong hierarchy, use white space and high contrast
Email code: Use semantic HTML and include alternative text for images
Showcase user-generated content
Data shows that consumers trust other consumers before they trust a brand. Because of this, both residential and business customers want to see the success of others. By including video testimonials or case studies, new customers can see firsthand experiences of the success of energy efficiency programs or marketplace purchases. Adding actual customer reviews directly in email is also a valuable way to prompt more action and improve click-through rates.
Utilize preference centers
Utilities obtain most of their customer data from contact information when they sign up for service. But what customers actually want and expect from utilities differs from this generic information. Preference centers are great tools for asking for details about a customer that might not be readily available when one signs up for service.
"With preference centers, you're emailing them with content they actually want to get from you," Price explained.
A few benefits of using preference centers includes:
Reduced unsubscribes
Showcasing email offerings
Increased engagement
Preference centers allow utilities to see which topics customers are interested in, or not interested in, and helps to tailor messages specifically for that individual.
Hyper-personalize your email campaigns
"Gone are the times of mass email messages," Farchione said. "People want and expect content that fits their specific interests and needs."
Hyper-personalizing communications makes customers more engaged and helps your utility reach its business goals. As Farchione pointed out, "Personalization drives performance and better outcomes." In fact, data from Content Marketing World 2021 shows that 74% of customers are frustrated when information isn't tailored to them.
Farchione shared an example of Questline Digital's work with AEP Ohio on a segmentation strategy for the utility's business eNewsletters. After adding targeted, industry-based audiences such as healthcare and education, the utility saw an 84% increase in engagement among its business customers.
Changes to open rates and privacy
Apple recently introduced Mail Privacy Protection, a privacy setting that hides IP addresses so senders can no longer see who opens an email, the time of open, location or type of device.
Although many utilities are concerned about these changes, Price reminds us to look back at the goals: "What was the goal of the actual email? The goal was never for customers to open it, the goal was for them to engage with it in some way."
Price recommends expanding KPIs to better align them with long-term business goals. She suggests considering:
Email quality
Unique clicks
Account activity
Website visits
Prepare Your Marketing Strategy for 2022
As your utility looks ahead to the new year, consider these email marketing trends when planning your communications strategy.
Questline Digital can help your energy utility deliver more effective and engaging email communications.