When it comes to promotional emails, there is a fine line between selling your product or service and creating a narrative that resonates with customers. For energy utilities, this is not always an easy task. The reality is, utility products and services can be technical, complicated and not always on customers' radars. More so, energy utility emails are competing in inboxes brimming with promotional messages from Amazon, Netflix, Starbucks and other popular brands. However, with the right messaging, your energy utility promotions can cut through the clutter and make an impression with the right customers.
Ready to take your emails to the next level? For a dose of inspiration, check out these creative ideas for your energy utility's product and program promotions.
Powerful Promotions: Storytelling vs. Selling
Storytelling is a powerful way to showcase the benefits of a particular product to customers. Rather than overtly selling to customers, guide them through a story that shows your product can add value to their lives. This leads them to make a purchase on their own accord.
For a major IOU in the Southeast, Questline Digital created a promotional email campaign to help increase awareness and sales of their security lighting product. For the residential email, the message centered around the main benefit for customers: greater security.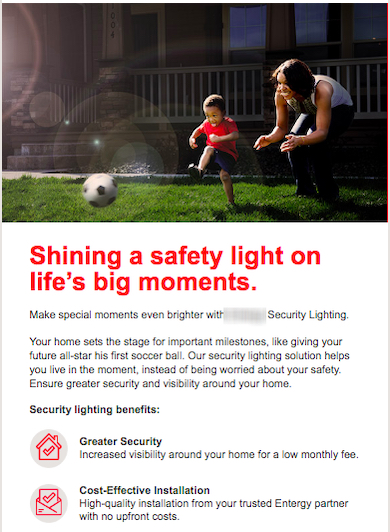 To reach business customers, we created segmented emails for six industry segments: apartment complexes, warehousing and storage, auto sales and services, religious organizations, educational facilities and general commercial. The message focused on how each business sets the stage for important milestones for both employees and customers.
For example, the email targeted to educational facilities focuses on a new student moving into her college dorm. The email to apartment complexes showcases a new couple enjoying their first night together in their new home. The utility's security lighting can provide a "safety spotlight" for these special moments.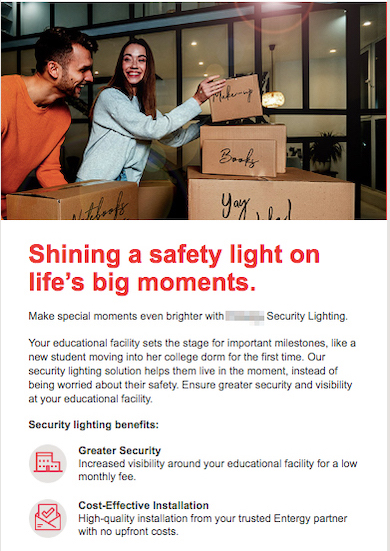 Key takeaway for energy utilities: Instead of only listing the selling points of the product, craft a story about how it will benefit customers in their daily lives. In this example, customers want to feel safe and secure at their home or business so they can focus on the important things in life. By speaking to customers' unique needs and interests, your energy utility promotions are more likely to capture their attention and connect with them emotionally.
Program Conversions: Incentives for the Win
When promoting various energy utility programs, such as paperless billing, outage alerts or My Account enrollment, an incentive is sometimes all you need. According to Questline Digital's performance metrics, paperless billing promotional emails with incentives have a 17% higher open rate and 28% higher CTR than messages without incentives.
Beyond engaging customers, incentives have the power to drive conversions, too. For a Pennsylvania-based IOU, Questline Digital created a promotional email, sent around Earth Day, with an eco-conscious incentive to encourage customers to sign up for e-Bill. Customers could win one of 10 smart thermostats to help save energy in their home.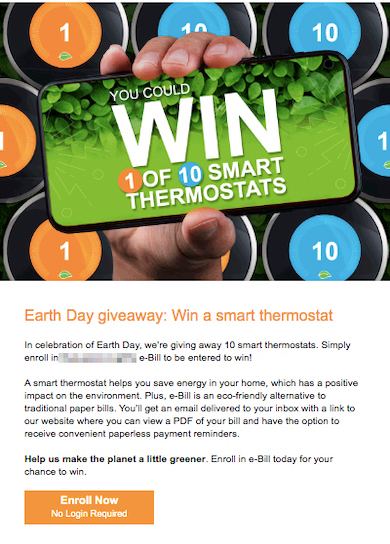 Key takeaway for energy utilities: Incentives are often the extra push your customers need to take action, whether to enroll in paperless billing, sign up for My Account, take a survey or participate in other programs. Be creative with your incentive and tie it to a particular theme. A smart thermostat is a great giveaway around Earth Day, while a gift card might be better suited for a holiday season promotion.
Encouraging Customers to Go Electric
With growing consumer interest in renewable energy, energy utilities are increasingly promoting rebates and incentives for electric vehicles, EV smart chargers and electric warehouse equipment. When promoting these rebates, a focus on getting or saving money is typically the best approach to reach customers. Whether residential or business customers, everyone is motivated by the chance to either save or receive money.
For a large IOU in the Northeast, Questline Digital created a fun campaign to promote their EV smart charger rebate program to residential customers. The email featured a brightly colored animated GIF of a woman throwing money into the air with "$500 Smart Charger Rebate" front and center. Not only was the campaign eye-catching to customers, but it effectively highlighted the main benefit of the rebate while providing straightforward instructions on how to activate the smart charger and submit the rebate.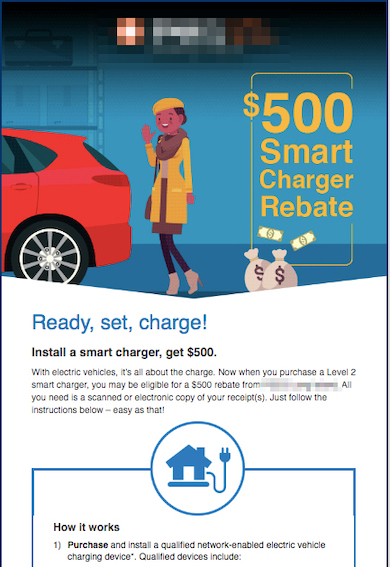 For another campaign, a Southeast energy utility wanted to encourage business customers to make the switch to electric equipment. With this goal in mind, we created a campaign that focused on the cash incentives for purchasing various equipment for their facility, including forklifts, man lifts, commercial level 2 EV chargers and golf carts. Through the use of an easy-to-read table and iconography, the email made it easy to see the benefits of going electric and taking advantage of the rebates.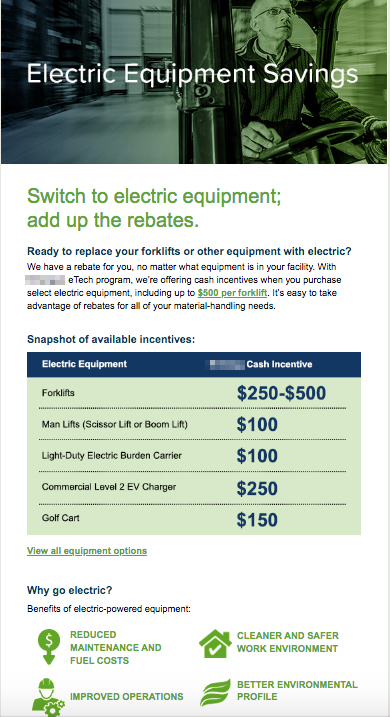 Key takeaway for energy utilities: When promoting rebates and incentives, focus on what your customers care most about: saving money. Remember, sometimes less is more when explaining technical products, such as EV smart chargers and electric equipment. The goal is to get customers intrigued by the offer so they visit your website for more details. In other words, you don't need "everything but the kitchen sink" in the email.
No One-Size-Fits-All Answer to Energy Utility Promotions
As you can see from the above examples, successful energy utility promotions start by paying attention to what is most important to your target audience. For some campaigns, you might need to tell a story to showcase a particular product's benefit and pull at the heartstrings of your customers. With other campaigns, an incentive or laser-focus on one specific benefit (like extra cash) is all you need to motivate customers to take action. Listen to your customers and their needs to develop creative campaigns specifically for them.
Learn more about the engagement strategy behind Questline Digital's program promotions campaigns for energy utilities.