Looking to improve digital customer engagement? Behavioral emails could be your answer.
With 75% of emails going unopened on average, your energy utility must work to send customers the emails they want to read. Behavioral sends give customers what they want when they want it.
What Is a Behavioral Email?
Behavioral emails are automated or planned email sends that are triggered by actions taken or not taken by a customer. Instead of interruption or push marketing where brands put messages in front of consumers who may or may not be interested, behavioral targeting builds on pre-determined actions and demonstrated customer interests. This gives customers exactly what they want or need.
Is Behavioral Marketing the Same as Segmentation?
Segmentation refers to building marketing campaigns for specific audiences so you can speak to their unique needs and interests. Segmentation is often done with demographic data or personas. Not all segmentation efforts are classified as behavioral, but all behavioral emails can be considered segmented. Behavioral segmentation is the sorting of people into groups based on actions they take or don't take.
Why Should You Use Behavioral Emails?
Targeted, personalized messages have the power to transform your energy utility into a trusted partner and resource. Setting up behavior-based email campaigns can help you reach customers when they are ready to engage with you or need your help most.
Data from MailChimp shows that on average, segmented campaigns result in 23% higher open rates and 49% higher click-through rates than unsegmented campaigns.
Questline Digital's Benchmarks data supports MailChimp's findings, showing that when energy utilities segment eNewsletters for small businesses they see a vast improvement in customer engagement. Year over year, utilities saw:
11.2% more opens
45.8% improvement in click-to-open rates (CTOR)
62.1% improvement in click-through rates (CTR)
As explained above, behavioral emails take segmentation even further, speaking not only to specific needs and interests, but providing that information exactly when customers need it. Essentially, the right message at the right time.
This is why behavioral emails perform better than promotional marketing emails. According to the Direct Marketing Association, over 75% of email revenue is generated by triggered emails.
Triggers for Behavioral Emails
Actions taken within marketing campaigns are the best triggers for behavioral emails. While actions like signing up for service or making a purchase can trigger automated email sends that are by definition considered behavioral, the largest impact can be made when sending follow-up emails based on clicks or opens.
Triggers for behavioral sends:
Open, no click
Click but didn't convert
Didn't open
You can set up automated workflows that follow if/then logic based on the listed actions above. Or if you're unable to build sophisticated systems, use behavioral lists. Simply remove those contacts that don't fit the chosen criteria and send targeted follow-up communications.
7 Behavioral Email Examples for Energy Utilities
Energy utilities can take advantage of triggered emails in a variety of ways. Here are seven behavioral email examples to help inspire your customer communications:
1. Welcome series
The most common type of behavioral email is the onboarding message. The action of signing up for service naturally prompts the need for communication. A series of welcome emails establishes a flow of information, helping customers make the most of their new account right away. This can be automated to launch immediately when people sign up for service or be sent every week to new contacts, depending on your email capabilities.
2. Program enrollment
When promoting program or paperless billing enrollment, you can use behavioral emails to further prompt customers who don't act. If a customer clicks into your paperless billing email but doesn't enroll, you can send a behavioral email with a different subject line, CTA or hero image. They showed interest but may need different information to take action.
Similarly, if your campaign features a time-sensitive sweepstakes or promotion, a behavioral follow-up with "don't miss out" or "limited time only" messaging can motivate customers who previously haven't responded to finally act.
3. Utility marketplace
Many energy utilities are now utilizing abandoned cart emails that are popular in the retail industry. These emails are automatically triggered when a customer leaves an energy utility's marketplace without completing a purchase. Abandoned cart emails can tout the benefits of the product not yet purchased or include a modest coupon code to further entice customers to complete their purchase.
Another idea is sending a product recommendation email after a customer makes a purchase to encourage them to shop again. When you know what customers have already purchased, you can predict what they will buy or need next and make helpful recommendations. This is a tactic that Amazon uses, with 35% of its sales directly attributed to making product suggestions based on past behaviors.
Your energy utility can also benefit from following up with useful tips on how to make the most of a recent purchase. A triggered content email that explains how to use a smart thermostat after one is purchased from your marketplace can go a long way in helping customers enjoy their new product.
4. Activity reports
You likely already have this type of behavioral email in place. Each month you may send customers payment confirmation emails or energy usage summary reports. Both are considered behavior sends because they are triggered by actions taken by the customer.
5. Web views
With proper tracking and systems in place, you can see when customers view specific pages or products on your website. If you find that a customer is viewing multiple pieces of content related to renewable energy, you can build an automated email or email series that is triggered to send after a specific number of views. This allows you to automatically send them communications that answer common questions about the topics they are researching.
6. Engagement
Take action on customers who don't regularly open emails. For example, if a customer doesn't open their eNewsletter for six months, you can set up an automated re-engagement campaign to encourage them to update their email preferences and subscriptions.
7. Service
When you complete a customer service call, send an automated email that asks for customer feedback. Get feedback in real-time when memories are fresh so you can take appropriate action and keep customers happy. Not to mention, capture the positive service wins of your employees.
7 More Behavioral Email Examples
Triggered emails are used by marketers in all industries, but retailers and ecommerce brands tend to lead the pack. Check out the behavioral email examples below.
1. Abercrombie & Fitch
After a customer viewed loungewear on the Abercrombie & Fitch site, but took no action, the retailer sent a behavioral follow-up that encouraged the shopper to "take another peak."
2. Section 119
Or this example from Section 119. The retailer followed up on a web visit with the simple question, "Where'd you go?" and offered up related products to encourage more sales, adding a sense of urgency around merchandise availability.
3. Utility customer satisfaction survey
Getting customer feedback is essential. But when sending J.D. Power survey requests, it's unrealistic to expect one email to garner maximum participation. To increase the likelihood of getting feedback Questline Digital helped one of our clients to set up reminder emails to send to customers who didn't open or click previous messages.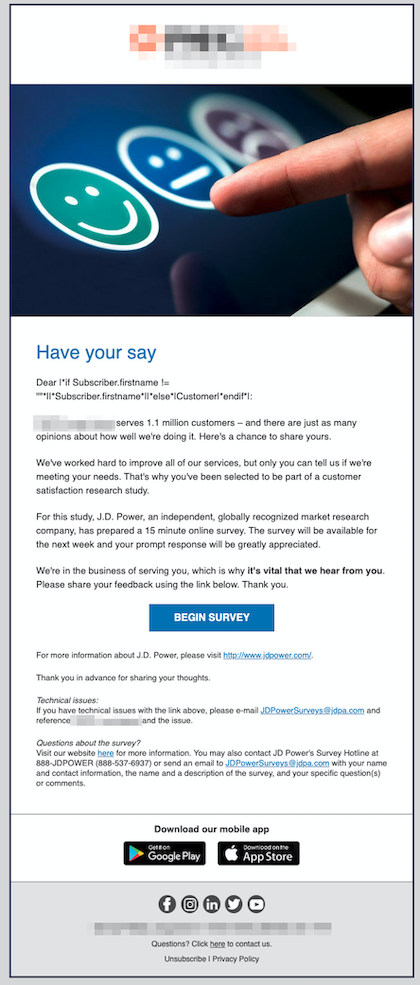 4. Questline Digital
Here is a behavioral email example that Questline Digital uses in our own email marketing efforts. When a recipient opens an email about our upcoming webinar but doesn't register, we trigger another email to send a few days later, encouraging them to finish signing up.

5. Homage
Post-purchase follow-up is a common use for triggered emails. Check this behavioral email example from Homage. After a customer purchased a gift card, they emailed to see how the experience went. They also made suggestions for future purchases and invited the customer to join them on social media.
6. Amazon
Here's an incredibly simple behavioral email example from Amazon. Users with a wedding registry receive a promo code one week after their wedding date. Fully automated, this email prompts additional sales at the exact moment the newly married couple has extra cash in hand from wedding gifts.
7. Grist
Welcome emails classify as behavioral sends. Post signing up for an eNewsletter with Grist, subscribers receive the following email with information on what to expect next and how to update their preferences.
Getting Started with Behavioral Emails
Could your energy utility's program promotions benefit from the addition of behavioral emails? If you're not doing them already, the answer is yes. Building automated email sends and/or setting up manual workflows based on customer actions is one of the best ways to boost email engagement and program participation.
Learn how Questline Digital can elevate your digital customer relationships with behavioral email marketing.