Comparing the effectiveness of video vs. written content isn't clear-cut. There are numerous factors to consider, like, who the content is for, why you're making it, what your goals are and where you're going to use the content. Often, you might even decide to use both formats in tandem to accomplish your goals.
But there are some best practices you can follow to make the choice easier. Check out the following advice from Questline Digital's content experts.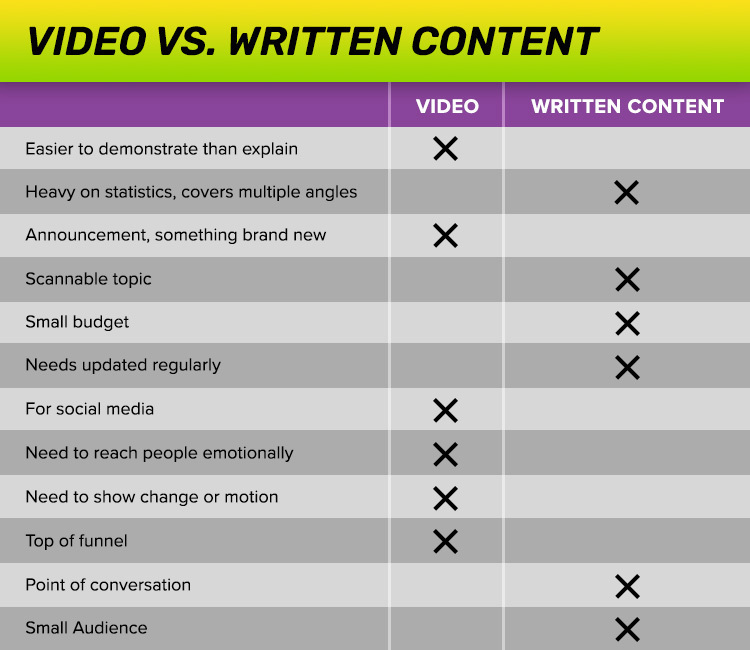 When to Use Video in Your Content Strategy
The popularity of video continues to rise, spanning all audiences. Video content has become one of the most effective tools to capture attention and teach new concepts, but alas, isn't always an attainable option or even the best choice. It all depends on your goals, timeline and audience. Marketers must identify the best-fit scenarios to invest in video production.
Goals and audience
"I think intent is the most overlooked aspect of video," explains Matt Irving, Creative Director of Video Content at Questline Digital. He warns that people sometimes make video just to have video, not because it's the best tool for the job.
Understanding your audience and how they learn best is step one. Do they require visuals? Are they familiar with the subject?
"Video is usually really good at simplifying topics or concepts that are easier to show than describe," Irving adds. "It's also good any time you want to show something that's moving or changing."
The most popular videos in Questline Digital's Content Catalog include clips that provide an inside look at how new technology works or explain a complex energy concept. Without video, you can't see beneath the surface. With animation and video editing, you can offer an x-ray view.
Humans struggle to conceptualize the abstract. With just text to rely on, an intended message about a new program or initiative can easily get lost. "Video works well in demonstrating something that is new or something people have heard about, but never seen," Irving says.
So, if you're promoting a new service that requires visual aids or want to explain the inner working of a complex energy topic, video is likely your best choice.
Inspiring action
What do you want your audience to do? Are you trying to make them sign up for a program or convert to a new rate plan? Or are you trying to educate them about an important energy or safety topic?
"The best campaigns use all the tools to move people toward and through the funnel and video can do a lot, especially near the top," explains Irving.
"Videos can tell someone what's in it for them if they take action, then facilitate that action. But if someone already knows what they want — say, a new fridge — video is probably not the way to go. If you're to the last part of the funnel and want to convert with one click, video isn't your best choice. If you are near the top of the funnel or trying to shift the feel overall, then video is great."
If you're introducing a new program or want to educate audiences on an efficiency topic, video could be your best tool. But if you want to push a warm audience to final conversion, asking them to first watch a video could complicate or stall the journey.
Simply put, Irving says, "I don't sell cars or pizza. My goal is for someone to watch my video then find or call the person that does."
The right channels
Where your content is shared matters. It's a fact that videos perform better on social media than articles. Questline Digital's data shows that videos shared on Facebook attract 200% more engagement than static content.
Why? Because compared to written content, video is much more effective at adding personality and emotion to a message. Social algorithms favor videos because they capture a viewer's attention quicker and for longer, meaning more exposure to your message.
Videos can also be repurposed across multiple platforms. They are effective not just on social media but also on websites, in newsletters and for advertisements.
When to Use Written Articles in Your Content Strategy
Video isn't always the answer. Often, written copy emerges as the clear and best choice. If you are still debating video vs. written content, here are some concrete reasons why you might choose text.
Complexity and depth
If you're releasing new research findings or covering a topic that includes copious statistics, written content is your best bet. Generally, people don't remember numbers when they see them in video. They will recall the broad strokes of the message, but not the specifics.
Additionally, if you need to go deep into an idea, written content should be your go-to tool. Marketing videos are typically short and cover high-level concepts while articles can cover a topic from every angle.
"Articles are better for discussing a subject from a variety of angles," explains Scott Miller, Director of Energy Communications at Questline Digital. "Videos are generally less than two minutes long, so they often give a broad overview of a topic or cover a limited part of it. If we want to take a deeper dive, we will typically choose an article."
Timeliness
If you need to produce and deliver a message quickly, it should come as no surprise that written content is the better choice. Professional video production can take weeks or months and often requires the involvement of multiple people.
Once produced, videos are more difficult to update than a written article. Hitting the edit button and changing a statistic, updating a link or correcting a quote is no issue for text-based content. Updating a video, on the other hand, requires editing software, audio mixing, new graphics, and a number of other steps.
"We want to ensure that our content is relevant today and three years from now," adds Miller. "So, topics like 'findings from a recent survey' are best covered as articles that cost less to produce and are easier to keep up-to-date."
Audience size
Articles have mass appeal. They can be used for both small and large audiences because of their versatility and ease of creation. If your target audience includes just 30 customers, would you recoup the money spent on video production? Most likely, an article would be a more economical choice for your small audience.
Articles are better for niche topics such as "best lighting choices for college campuses" and videos are best used for broader topics like "how the electric grid works."
Video vs. Written Content: What's Best for Customer Engagement?
What content format will you use for your next campaign? We hope our comparison chart and best practices make your choice simpler. Still unsure of video vs. written content? Don't hesitate to reach out! Our team of experts is here to help.
Increase customer engagement with a content strategy from the experts at Questline Digital.