To keep customers engaged in between billing notices and program promotions, energy utilities need the consistent touchpoint of a monthly eNewsletter. This ongoing communication is popular across audiences, from residential customers to small business owners to C&I facility managers.
According to Questline's 2020 Energy Utility Benchmarks Report, eNewsletter readers are much more engaged with their energy utility's program promotions. In fact, residential eNewsletter readers open promotional emails at a 37% higher rate. Small and medium business eNewsletter readers click on promotional emails at a 73% higher rate.
To gain more insights, we spoke with Brian Lindamood, Questline's AVP of Creative and Content Strategy, about the power of eNewsletters and why they are essential for energy utilities.
Why are eNewsletters a vital customer engagement tool for energy utilities?
A monthly email newsletter is a critical part of a customer engagement strategy for any energy utility. They provide a regular touchpoint — a monthly reminder that the utility is working to improve customers' lives — which is key to maintaining customer satisfaction over the long run. As part of a comprehensive content strategy, eNewsletters can reinforce messages shared on social media and drive traffic to relevant pages on a utility's website. This creates a consistent customer experience across digital channels.
eNewsletters are also a more personal connection than other channels. When you reach inboxes on a smartphone — and more than 60% of our eNewsletters are read on mobile devices — your message is going literally into customers' hands. Plus, email is the most flexible channel. By segmenting your eNewsletter audience, you can deliver extremely relevant, targeted content that you know customers will be interested in.
How do eNewsletters build engagement with customers versus a one-time email?
eNewsletters are a consistent, reliable touchpoint between an energy utility and its customers. This is a chance for utilities to be part of customers' lives on a regular basis by answering their questions, providing helpful advice and sharing interesting information. Ultimately, this ongoing engagement builds trust and helps customers see their utility as a helpful resource. You simply cannot build that kind of relationship with a one-time email.
What is the recommended eNewsletter cadence for maximum engagement?
We recommend a monthly schedule for eNewsletters. Our performance metrics have shown that this is "just right" — not too often, but not so infrequent that you lose the benefit of regular contact. An eNewsletter builds engagement in part because of its regular cadence. Customers know to expect interesting content and useful advice from their utility, and they get in the habit of looking for it every month. In our experience, a bimonthly or quarterly newsletter schedule loses that benefit and delivers lower engagement. (See comparison chart below.)
Why do customers often see more value in eNewsletters compared to other types of campaigns, such as program promotions?
Advertisements are easy for customers to tune out. An unwanted promotional email is easy to delete. On the other hand, customers open eNewsletters because they want to read them — they look forward to receiving useful advice. Customers value eNewsletters because the content interests them; it's not just trying to sell them something.
What types of content should energy utilities include in their eNewsletters?
The best content helps improve customers' lives. It may be energy efficiency advice that helps a customer save money, do-it-yourself tips that make a customer's home more comfortable or educational content that helps a customer improve their energy use.
In terms of format, we recommend using a mix of text articles, videos, infographics and interactive games and quizzes. Some topics lend themselves to different formats better than others — say, because of the complexity or visual nature of the information. But more important, customers want to engage with content in a variety of ways. Sometimes they want to learn about energy through a fun quiz or watch an entertaining video. Other times, they need the visual detail of an infographic that breaks down a complicated topic. 

Why is audience segmentation a valuable strategy for eNewsletters?
The goal of any content strategy is to build a long-term relationship with customers by providing content that is interesting and useful to them. Of course, not every customer is interested in the same things. If you can identify those differences, and provide specific content that meets those interests, you are more likely to increase engagement and build a strong connection with those customers.
A simple example, and one we recommend, is to create residential segments for homeowners and renters. Homeowners will be looking for energy efficiency advice that includes more elaborate renovation projects — such as insulation or HVAC replacement — where renters are more interested in efficiency measures that don't require a large investment, like using LED lightbulbs or smart power strips.
To engage business customers, we recommend creating industry-based segments. For instance, a retail shop, manufacturing plant and healthcare facility have wildly different energy needs. Through a segmented eNewsletter, we can deliver specific content to each industry. This is not only more useful to the customer, but it increases engagement and ultimately improves customer satisfaction.
A Look Back: Quarterly vs. Monthly eNewsletters
Since a majority of our utility partners now deploy monthly eNewsletters, 2017 is the most recent year we have metrics on monthly versus quarterly sends. In our Energy Utility Benchmarks Report, we looked at the average performance metrics across business audiences. Based on this data, energy utilities were able to increase reach by 17 percentage points when sending newsletters monthly instead of quarterly.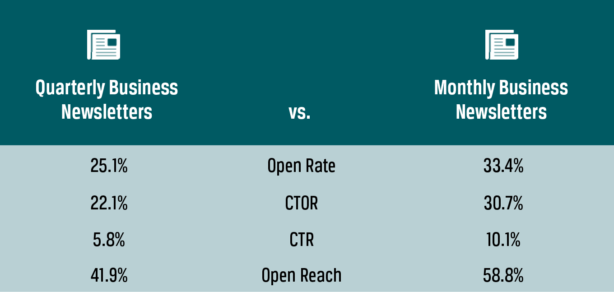 Monthly newsletters perform better than quarterly newsletters across all categories. We continue to see that when communications become less frequent, customer engagement suffers.
Learn how Questline's eNewsletters can build customer engagement for your utility.