My Account makes your customers' lives easier. They can set up their payment options, sign up for paperless billing, explore their energy use and more. My Account isn't just beneficial for customers — it's an essential tool to help energy utilities achieve long-term customer satisfaction.
Beyond personalizing their experience, My Account helps customers be more digitally connected with your energy utility. However, it's not always easy to encourage customers to enroll in this convenient service. Try these five proven strategies to increase My Account enrollment.
Promote My Account Enrollment in Welcome Series
The best time to promote My Account to customers is at the start of service. We recommend taking advantage of a new customer onboarding campaign such as Welcome Series to introduce the features of My Account. In fact, nearly half of all Welcome Series emails are opened, and one in 10 customers click on at least one email.
Promote My Account enrollment throughout your welcome messaging, especially in communications focused on setting up service and billing options. Our benchmarks data shows that the welcome and billing message have the highest customer engagement, with open rates of 43% and 53%, respectively. In these emails, highlight the key benefits of My Account and include a CTA directly to the enrollment page.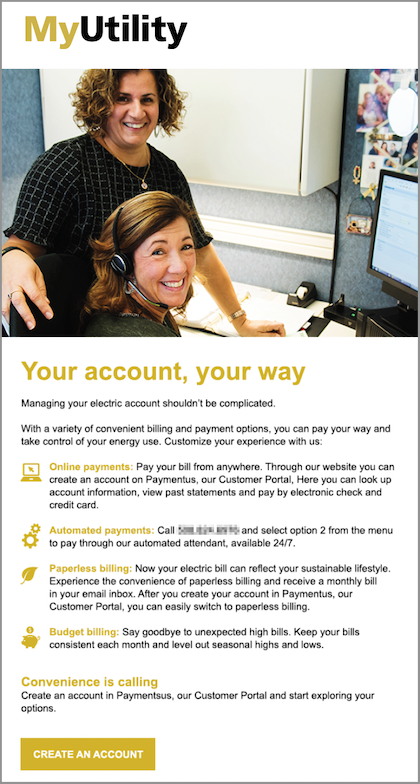 For example, Questline Digital helped these energy utilities highlight My Account in their Welcome Series campaigns. The billing and payment email features prominent links for customers to create an account. The My Account messaging reinforces how customers can customize their utility experience.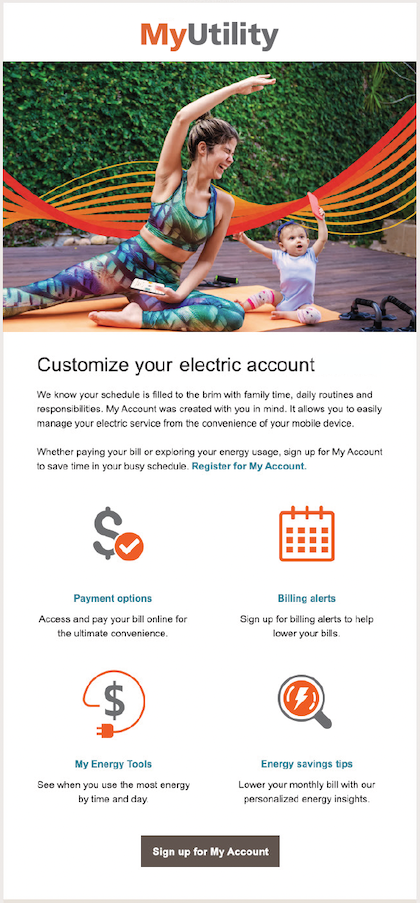 Create an Eye-Catching Email Campaign
Customers are drawn to emails that are fun, engaging and stand out. Instead of simply listing the benefits of signing up for My Account, it behooves utilities to create a compelling theme.
In other words, tell a story that speaks to customers' needs, interests and lifestyles. For example, show an image of a customer relaxing on the beach while checking their utility bill. This lets customers envision how on-the-go account access can benefit them.
Questline Digital worked with a large Southeast energy utility to deploy a My Account email campaign. The campaign showcased how residential customers can manage their electric account wherever they go. The imagery of a customer relaxing on a hammock during a camping trip emphasizes the benefit of "anytime and anywhere" account access.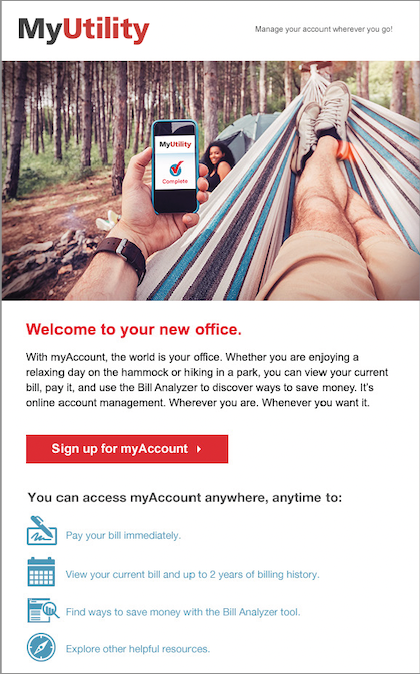 A Midwest utility focused on women, a large segment of their customer base, with this creative campaign. The campaign highlighted how the utility's online user profile is designed for "the Super You." In other words, creating an online user profile will help these customers accomplish even more in their day.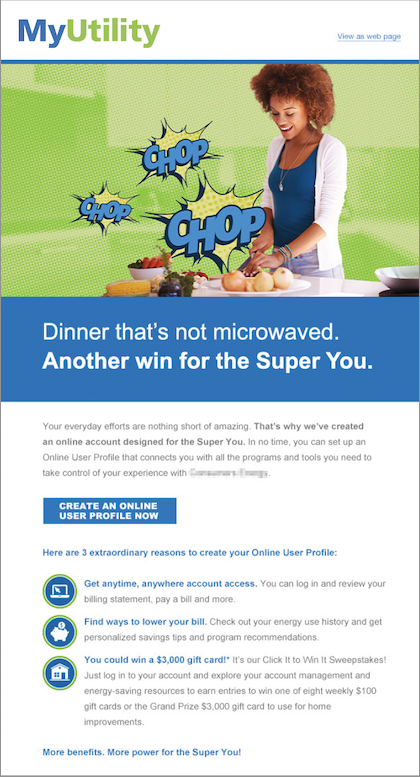 Segment Your Audience
An engaging message has the power to increase the effectiveness of your promotions. Segmentation helps increase My Account enrollment by promoting specific benefits to smaller, targeted audiences.
We recommend segmenting your audience by customers' needs and interests. For example, business customers are more interested in no-hassle payment options like auto pay that make their busy schedules a little easier.
You can segment your residential customers by homeowners and renters. Homeowners are interested in keeping track of their monthly energy usage. Budget billing or payment assistance programs may be more relevant to a renters.
A large Northeast energy utility segmented their My Account email to business customers. The email, part of a four-email Welcome Series, featured the billing and payment options that businesses care most about, including paperless billing, auto pay and flexible payments. The email includes multiple call-to-actions (CTAs) to sign up for My Account.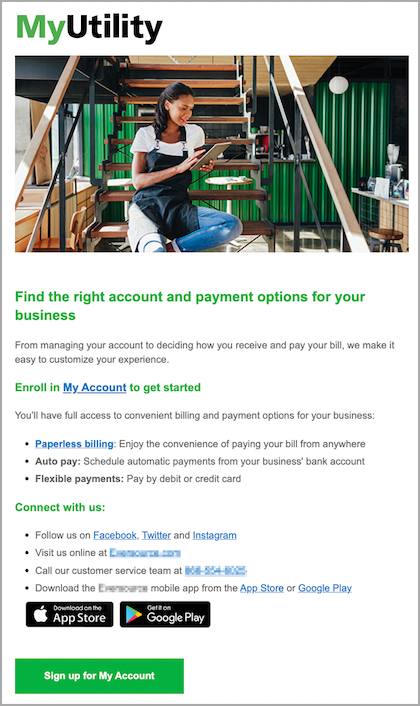 A Pennsylvania-based energy utility created an email campaign targeting residential customers who have not signed up for My Account. The email features an eye-catching animated GIF that illustrates how easy it is to choose various My Alerts, including billing alerts and payment confirmations, available through My Account.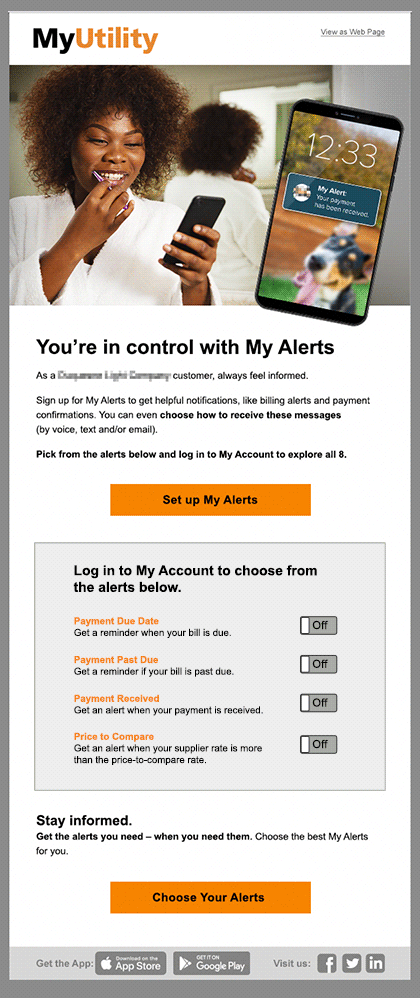 Make it Easy with One-Click My Account Enrollment
A potential roadblock for customers is a complicated, multi-step enrollment process. One-click enrollment features an easy-to-use landing page with customers' account information dynamically prepopulated in the form. All they need to do is click a button to enroll.
Our energy utility clients have found success with one-click enrollment for various promotions, from paperless billing to rebate programs. For example, we helped Eversource Energy create a one-click enrollment landing page and enrollment confirmation page for their paperless billing program. As a result of this easy enrollment, Eversource experienced the largest annual gain in five years with an increase to 33%.
Add an Incentive
Incentives are an effective way to increase My Account enrollment. Questline Digital performance metrics have found that a small reward for every customer who signs up is more effective than a single grand prize. Promotions with an incentive have a 17% higher open rate and 28% higher CTR.
Here are some best practices when choosing a smaller incentive:
Awarding a $5 gift card to all signups converts better than enter-to-win contests of $1,000 or more.
Products like LED lightbulbs rank second to gift cards among the best drivers of click-throughs.
Thermostats and smart-home device giveaways are also top performers.
While less effective than small rewards, a single grand prize (tickets to a sports game or free electricity for a year) is better than no incentive at all. These prizes will still encourage opens and drive customer interest in your promotional email.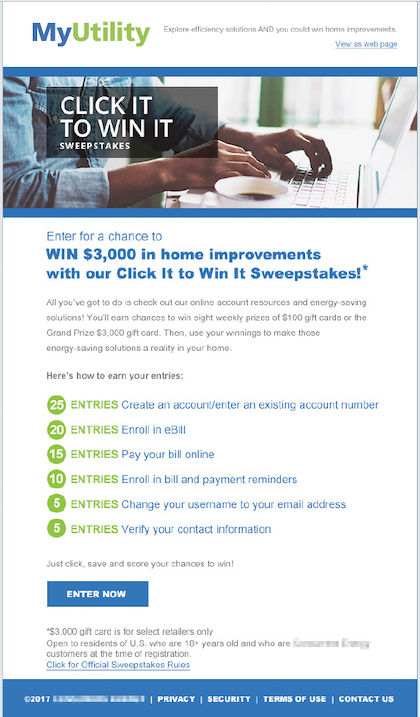 A large Midwest energy utility utilized a sweepstakes to motivate residential customers to sign up for an online account. Customers could win up to $3,000 in home improvements by creating an online account, enrolling in e-Bill and other helpful tools. The "Click It to Win It" sweepstakes was a successful way to increase online account sign-ups, while also helping customers make energy efficiency improvements to their home.
Connect on Social Media
The demographics of energy utility customers are changing — and younger generations are a growing share of the population. To reach millennial and Gen Z customers, you need to be where they are online. With 90.4% of younger generations being active social media users, this is where to find them.
Don't miss out on reaching younger audiences — share the benefits of My Account through an engaging social media campaign featuring fun videos or imagery. While it's important to stay true to your brand, social media is the perfect opportunity to show off your brand's personality.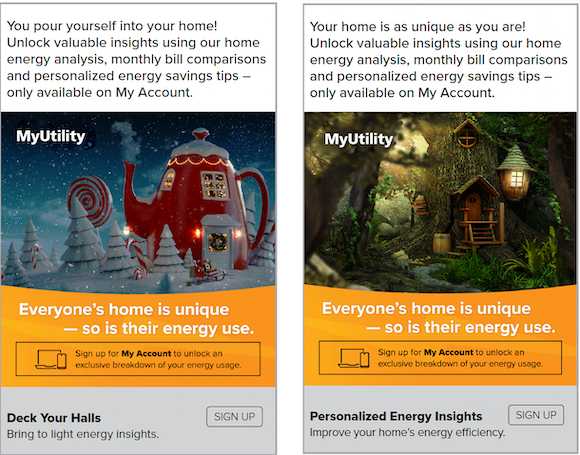 A Pennsylvania-based energy utility utilized Facebook and Instagram to promote My Account's home energy savings capabilities, including monthly bill comparisons and personalized energy savings tips. The social media campaign featured fairytale-themed imagery of houses with the tagline, "Everyone's home is unique — so is their energy use."
Making Moves with My Account
Opportunities abound for increasing My Account enrollment. Since every energy utility is unique, test out these different tactics to discover which one works best for you.
Learn how a digital marketing campaign will boost My Account enrollment for your energy utility.