Video content marketing cannot be overlooked as a tool to reach, communicate and engage with your customers. Videos play a key role in attracting and capturing attention, as well as delivering information in fun, easy-to-understand formats. It's vital your energy utility implements video content marketing strategies across all campaigns, from billing to program promotions, smart home technologies and more.
Why your energy utility needs video content for marketing:
Capture and hold customers' attention
Entertain and educate customers about complex topics
Improve SEO (search engine optimization) metrics and boost conversions
Encourage social media shares and engagement
Build brand trust and loyalty
The Value of Video Content Marketing
It's no secret that videos have become a common way to consume content, whether for entertainment or educational purposes. According to Statista, U.S. adults spend around 103 minutes every day watching digital videos on varying devices. That's nearly two hours' worth of video content consumed per day.
Not only do customers consume video on a number of devices, but they also consume content through every platform and channel available. From the rise of TikTok and Instagram Reels on smartphones to streaming apps on smart TVs, brands are vying for customer attention. YouTube is considered the second largest search engine next to Google and has over 2.3 billion monthly logged-in users. In addition, YouTubers upload 500 hours of video content to the platform every minute.
Why does this matter?
Just as consumers are inundated with emails and ads from brands around the world, they are also inundated with video content. That's why your energy utility's video content marketing needs to stand out. Videos need to be created with the customer in mind to help them solve a problem, answer a question or otherwise bring value to their daily lives.
Additionally, for energy utility marketers, video is an integral way to educate, engage and inspire residential and commercial customers at key touchpoints throughout the customer journey. In fact, 54% of consumers want to see more video content from brands and businesses they support.

Relationship-building emails that include a video can boost click-through rates by 200% to 300%. In addition, including videos in emails has the potential to reduce email unsubscribe rates by 26%.
According to Questline Digital's Benchmarks Report, the top 10 most popular residential customer videos achieved an impressive nearly 100,000 combined page views. The types of video content marketing included content that helped customers save money, DIY solutions for energy-efficiency and informational videos on other energy equipment.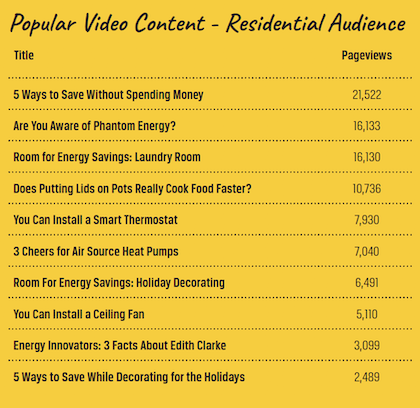 5 Reasons to Use Video Content for Marketing
It behooves your energy utility to add video content into its marketing strategy to increase customer engagement and satisfaction. Read on for five specific reasons why video content adds value to a marketing strategy.
1. Capture and hold customers' attention
Customers are bombarded by hundreds of marketing campaigns each day, but a video can cut through the clutter and capture attention in a unique and powerful way. Viewers report remembering 95% of a message when watching a video versus only 10% when reading it in text.
2. Entertain and educate customers about complex topics
Video marketing content is especially useful when needing to explain complex topics to utility customers, like demand response or beneficial electrification. Additionally, it is an easy way to make this educational content entertaining as well. Rather than writing a 500-word article on how beneficial electrification affects the grid, a video can more easily show this.
The visual elements of a video are also helpful tools to help customers understand how something works, like in the case of a new bill redesign. When PSEG Long Island introduced a new bill design to customers, it worked with Questline Digital to develop an engaging and educational video to help customers understand the changes to their monthly bills.
3. Improve SEO metrics and boost conversions
When it comes to SEO, videos can help improve your website's standing in the eyes of Google. Search engines want to see content that engages viewers, and website landing pages with video will keep people on your page longer than text. In fact, consumers spend 88% more time browsing on websites that have videos.
4. Encourage social shares and engagement
Whether on social or a website, customers expect to see video content. In fact, consumers say that videos are their favorite type of content to see on social media. When customers love what they see, they will often share those videos with friends and family, expanding the reach of your utility's audience.
Videos on social media also feature rich storytelling capabilities in an easy-to-digest format, making it well-suited for busy, on-the-go audiences. Make the visuals eye-catching and keep the video to one minute or less. Make sure you add captions to all your videos so that viewers don't have to turn on the sound when watching.
5. Build brand trust and loyalty
From fun, animated videos to heartwarming feature stories, video content marketing can show off your company's unique personality and brand voice. In turn, this helps build trust and loyalty among your customers.
Be authentic in your utility's creation of video content. Consider a video marketing strategy that includes not just products or programs, but content that demonstrates the human side of your utility as well. Interview employees or show behind-the-scenes moments. These human-centric videos are a welcoming sight to customers and help balance your utility's marketing strategy.
Testimonial videos are another great way to not only promote a product or service, but to continue showing the human side of your utility. By showing reviews from real-life customers, others will get to know your utility as a trusted source.
Types of Video Content Marketing
Before your utility can jump into video content marketing, it first needs to decide on the purpose and direction of the video. When choosing the type of video content marketing, consider:
Goals: What is your utility trying to accomplish with this video? To educate or entertain customers, or to explain a program or service?
Audience: Who is your utility trying to reach with this video? Does it include a range of residential and business customers or one or the other?
Metrics: What key performance indicators does your utility want to track? Video views or shares?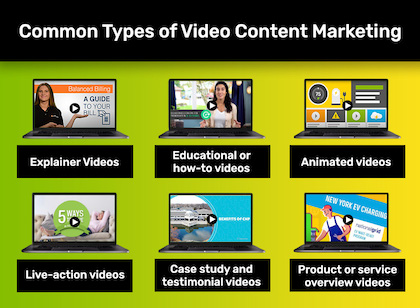 When these questions are answered, it's time to choose a video format.
Explainer videos
These types of video content marketing help customers more easily understand how your product or service works and why they should purchase or enroll. Many utilities will host explainer videos on their website landing pages or feature them on a homepage of a website.
Key attributes of a good explainer video:
Short in length, roughly 1 to 2 minutes long
Includes a strong call-to-action (CTA) that clearly states what a customer should do after watching
Focuses on a specific challenge and how to overcome it
Educational or how-to videos
Instructional videos help teach something new to your audience. Whether it's a new industry term you want customers to know or it's a DIY video about energy efficiency, these types of videos provide value by:
Encouraging continual learning for customers
Bringing customers "into the fold" so they understand more about the industry
Provide customers with the confidence to complete energy-efficient tasks on their own
Animated videos
Animated videos can be a good format for topics that are difficult to grasp and need strong visuals and direction to clearly explain the concept.
Animation can be less expensive and more flexible compared to live-action videos. If changes need to be made, a designer or animator can easily make the changes in the file versus needing to reshoot live video scenes.
Other benefits of animated videos include:
Easy to demonstrate abstract concepts
Any idea can be brought to life even if it doesn't exist in the real world
Has a longer shelf life and is easier to make edits or updates
Live-action videos
Live-action videos simply mean that the video includes real people versus computer-generated or animated characters. Some benefits of live-action videos include:
Captures real human emotion and reactions
Live footage can create an immersive setting for viewers
Camera and environmental effects, like the sun's shadow, can more easily be created in real-time versus in animation
Case study and testimonial videos
These types of videos feature real-life, satisfied customers or employees discussing the positive experiences they had with your utility or the products or services that have brought value to their daily lives.
Great testimonial videos often:
Tell a story from a first-hand perspective
Are authentic and feature real customers or employees
Focus on the "why" or the solution that was provided
Product or service overview videos
Often, the best way to promote a program or service to customers is to show them the value it provides. In fact, consumers are four times more likely to watch a video about a product than to read about it. A good product/service overview video should:
Easily explain a product's key features and benefits
Highlight the main components of a product customers should know about
Provide a clear CTA of what customers should do after watching the video
Video Content Connects with Energy Customers
Video content marketing is a critical way to engage with customers. Survey results show that 25% of consumers lose interest in a company if they don't use videos. Don't let this be your utility. Include different types of video content marketing to achieve both program enrollments and increase customer satisfaction.
Learn how a video content marketing strategy from Questline Digital will help your energy utility build engagement and inspire customers to take action.