Whether it's hurricanes, high winds, extreme heat or cold, every utility faces its own set of weather-related issues that can leave customers in the dark. More energy companies are using social media in their outage communications plans to reassure customers and share updates.
But some utilities may be wondering about the best practices in outage communications – are they posting the right information, at the right time, on the right channels, or even reaching the right customers.
Social media is an absolute must-have in our digital world. Customers will often visit your energy utility's social media pages to find answers to questions or updates on service information before they ever click through to your website. This is why it's important your social media is built up with appropriate links, FAQs and posts with relevant information that have your customers in mind.
When it comes to communicating outages, social media is your utility's best friend. It allows you to provide quick updates so customers aren't left in the dark. Continue reading for best practices in outage communications and examples.
What are outage communications?
Outage communications are an essential part of any energy utility's marketing and communications strategy. When the power goes out, customers need answers. They look to your energy utility for explanations, details and estimated restoration times, in addition to safety and security protocols.
In the past, best practices in outage communication may have centered around emails, phone calls or even fax. Now, however, customers expect immediate updates via text alerts, real-time outage maps and social media platforms like Facebook and Twitter.
Best practices in outage communication
Power outages can leave customers concerned and confused, but your relevant, quick communications can help alleviate these feelings. Keeping customers informed of outages is generally the same across all platforms. You must:
Alert customers as soon as possible
Send follow-up links of outage maps or restoration times
Provide safety tips and suggestions
Respond to customer questions or concerns
Best practices in outage communication comes down to your utility making customers the top priority. Proactive and timely information is what social media is all about. The more you can tell customers about the situation, the better.
Its best to share information on multiple platforms including email, text, your website and social media to ensure your customers see the updates on the platform of their choosing. However, remember to post frequently on social media, as this is where customers tend to turn for quick information in today's digital age.
How to use social media in your outage communication plan
Statistics show that 3.96 billion people currently use social media worldwide. According to the Pew Research Center, more than 72% of U.S. adults use at least one social media site, with 69% saying they use Facebook, 40% Instagram and 23% Twitter.
It's important to have a social presence for various reasons, including:
Customer choice – It provides another way to meet customers where they are
More connection points – In addition to email or phone calls, now you can engage with customers on social media
Show humanity and brand personality – Customers want and expect to see more behind-the-scenes and genuine content on social media
Control the story – Your social media page, your story; control what customers see about your utility with a planned social media strategy
Overcome misinformation – "Facts" spread like wildfire on social media, which makes it all the more important to set the record straight quickly
It's clear that social media isn't going anywhere. While your energy utility doesn't need to be on every single social media platform, it's important you know which ones your customers are using so you can quickly reach them with pertinent information. We suggest using Facebook, Instagram and Twitter for real-time updates and using YouTube to post and share proactive safety videos well in advance of an outage.
When using social media, keep in mind these best practices for outage communications:
Customers appreciate frequent, real-time updates rather than waiting for one large update. Doing so can help your utility see a reduction in call center traffic and customer frustration.
Use social media to drive customers to other important outage information, like your outage map or safety tips. It's a good idea to keep one page of your website dedicated to this information.
Confirm when full restoration has been reached and thank customers for their patience. No one likes being in the dark – your communications and gratitude will help customers feel like they know what's happening every step of the way.
Listen and respond – customers will often post questions or concerns on your utility's social pages or posts. It's important to not let these comments fall by the wayside. Respond accordingly with reassuring tones and as much information as you can, including links to your outage map, real-time restoration updates or safety tips.
Successful customer engagement on social media
At CS Week 2021, Oncor shared that their real-time updates were powerful contributors to increased follower counts after big-weather events. For example, they saw a 68% increase in Twitter followers during the five days of Texas storms earlier this year.
Customers want and expect replies to their comments or questions on social media and, more-so, expect them in a timely fashion. According to Statista, 47% of U.S. consumers have a more favorable view of brands that respond to customer questions or complaints on social media. Further, customers expect a response within one hour, yet 45% of brands take more than five days to respond to messages.
Replying quickly to customers with relevant information can lead to a positive customer experience, which in turn leads to:
Brand loyalty
Increased sales
Customer retention
When replying to customers, consider when to handle a situation publicly or privately. Many times, it helps to answer questions publicly for other customers to easily see the answers. Plus, this shows that you are, in fact, replying to comments. However, sometimes there is sensitive information involved, like requiring an account number or address to further investigate a situation. In these cases, publicly replying to the customer that the conversation should become private will still show your utility as a responsive resource, while keeping the customers' information secure.
This is typically how Oncor handles situations as well. At CS Week 2021 they said that 93% of their customer service requests on social media are related to outages and 77% of those are posted publicly for all to see. Their goal, however, is to respond publicly with a personal note, but ultimately move it to a private chat.
Examples of outage communications on social media
Social Media Meteorologist – Facebook
Oncor hired a meteorologist specific to their social media team to report on real-time storms and outages in live videos and posts on their platforms. This is a unique approach to delivering relevant and quick information to customers.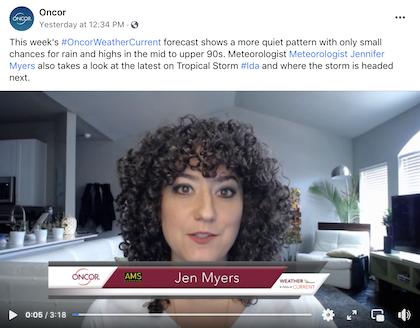 Listen and Respond – Facebook
In response to a post about crews working to restore power, many Duquesne Light Company customers had questions about when they could expect their power to be back. DLC quickly responded to comments about the expected restoration times and thanked customers for their patience.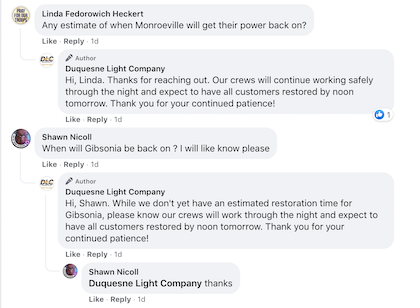 Be Proactive and Know Your Customers – Facebook
San Diego Gas & Electric knows that it has a wide variety of both English and Spanish speakers in its customer segments. Because of this, the utility is quick to post important safety messages in both languages, like this message on signing up for outage alerts.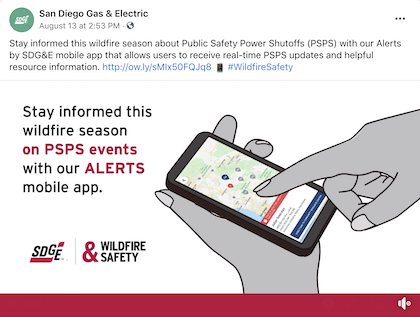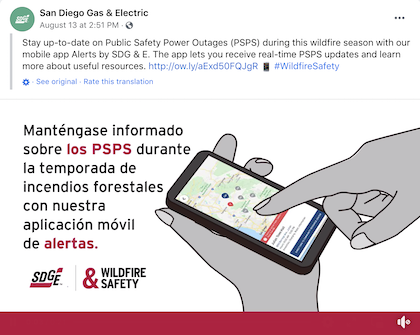 Proactive Emergency Kit Video – YouTube
Help ensure your customers know what to do in case of emergency. San Diego Gas & Electric (SDG&E) made a helpful YouTube video showing how one family prepared an emergency kit. For many people, the list of standard emergency kit items may not be enough. Watching a video demonstration may get the point across.
The video also demonstrates an evacuation, reminding viewers that friends and family members outside the emergency area should be a point of contact to relay information whenever possible. Watch the video below:
Storm Safety Tips Video Series – YouTube
Duke Energy created a series of storm safety videos in both English and Spanish for their customers, sharing insights about what to do when there is a downed power line or a damaged meter box. The videos are short, which means customers are more likely to pay attention and watch the full video. A real employee of Duke narrates the video with a reminder, "Don't worry, help is on the way." Watch the full video series below:
How to Report an Outage – Twitter
ComEd frequently uses Twitter to share proactive outage communications. In the tweet below, the utility explains how to report an outage or get outage updates, showcasing a quick video to visually show customers how to do these things.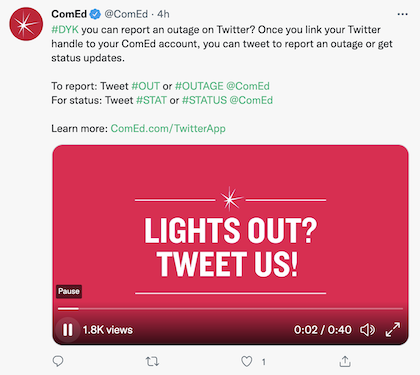 Outage Update – Twitter
ComEd is also quick to use Twitter for real-time outage updates, including thanking customers for their patience. In this tweet, they inform customers that they are continuing to work on restoring power lost from a storm and link over to their outage center for more information.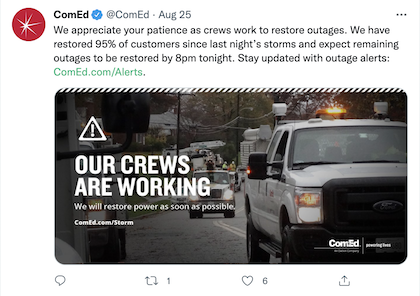 Outage Alert – Facebook
AEP Ohio quickly took to Facebook when an outage was reported in the city. In addition to alerting customers, the post also provided additional ways for customers to stay involved, including links to their outage map, text alerts and app.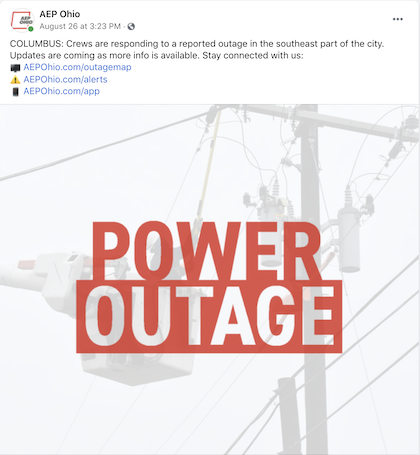 Outage Alert – Facebook
In the wake of outages due to a hurricane, Entergy posted this update on Facebook with a real-time picture of the damage. They let customers know that crew members were assessing the damage and will be working to restore power as it is safe to do so. Despite the fact that they were currently unable to give a restoration update, the utility clearly keeps customers updated with information as they can. The post also links to their newsroom site on the website with further updates about the storm restoration process.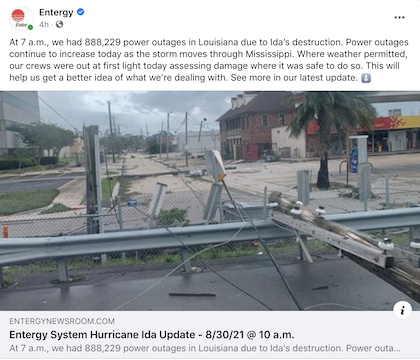 Use these best practices to develop your outage communications strategy. Learn how Questline Digital can help.