An engaged customer is easy to recognize in many industries. In the retail industry, an engaged customer is an avid online shopper who tags their favorite brand on social media. In the spa or beauty salon industry, an engaged customer will book appointments regularly and leave positive reviews on Yelp.
In the energy industry, however, it can be more challenging to define what utility customer engagement looks like.
Customer engagement is the relationship a customer has with a brand. It can be strengthened — or diminished — with every interaction.
Check out the following signs that your utility customer engagement efforts are succeeding.
What Is An Engaged Energy Utility Customer?
An engaged energy utility customer will:
Regularly log into MyAccount
Sign up for mobile alerts
Open and click your emails
Connect with your energy utility on social media
Take advantage of your programs and services
Make repeat visits to your online marketplace
Share experiences about your energy utility
Regularly log into their MyAccount or mobile app
If your customers are putting self-serve tools to use, that's a strong indication they are engaged. If they are logging into their MyAccount or mobile app to pay their bills, look at past energy usage, read efficiency content or choose alternative rate plans, you can be confident that they are paying attention.
Customers who don't regularly log in can be labeled as "absentminded power users." They are on autopilot and don't think much about their utility, the services provided or how they can take control of their own energy usage or spending.
Sign up for mobile alerts
Customers who have signed up for mobile alerts are more engaged than customers who haven't. These customers are telling you they want to receive the updates you have to share. Whether it's energy usage alerts, outage updates or general community messages, these customers have indicated they care about what your utility is doing.
Boost engagement quickly by running an opt-in campaign. See how this Southeast utility used email to update more than 275,000 customer accounts for mobile outage communications.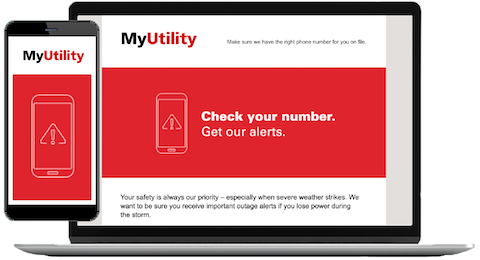 Open and click your emails
Utility customer engagement can be easily tracked by looking at email performance. If your customers repeatedly read the content you send them, they are highly engaged.
If customers aren't opening or clicking your emails, your utility has some work to do. Your emails may not be speaking to specific customer interests. Can you employ segmentation to become more relevant?
Check out the performance metrics for a municipal utility's monthly residential newsletter. These high open and click rates indicate an engaged readership and customers who see value in their utility.

Connect with your energy utility on social media
Your social media platforms are a great barometer for utility customer engagement. Think about your favorite brand — you are more likely to engage with their posts compared to a company you feel lukewarm about.
Engaged customers will frequently like, share and comment on your social media posts because they trust and respect your energy utility. They will also contribute suggestions, requests and ideas on your social platforms, showcasing their loyalty and involvement. They may even leave questions on your social media posts, further showing that they want to engage with you.
Keep in mind, your energy utility needs to have a social media presence with entertaining and educational content for these interactions to take place. If you have nothing worth "liking" to post, how will your engaged customers connect with you?
Whether you share educational videos or fun infographics with valuable insights on energy topics, give your engaged customers a reason to connect with your energy utility on social media.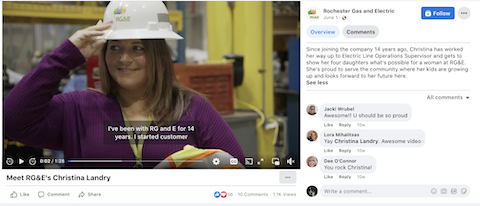 See how Rochester Gas and Electric fostered strong customer engagement with its social media content. By highlighting an accomplished employee, the utility gave its community something to celebrate, leading to a high number of comments, likes and views.
Take advantage of your programs and services
Engaged customers will utilize your energy utility's programs and services to improve their daily lives. This is especially true with MyAccount and paperless billing customers who are more likely to have a strong digital relationship with your energy utility.
Customers attuned to your brand might participate in an energy efficiency assessment or regularly visit your website to find helpful information on topics like renewable energy or home energy savings.
Engaged customers are eager to learn more about programs and services that are relevant to their unique needs and interests. By personalizing content in promotions and newsletters, you'll increase utility customer engagement over time. Customers will begin to see you as an energy expert and helpful resource in their day-to-day lives.
Make repeat visits to your online marketplace
Customers engaged with your energy utility will make repeat visits to your online marketplace. Research finds that fully engaged customers are not as price sensitive as their unengaged counterparts. Of course, they will look at the price tag, but that is not the only deciding factor. They shop more often, buy more products and are eager to tell their friends and family about your brand.
To encourage customers to visit your online marketplace, try sending regular promotional emails with energy-efficient products of interest to them. For example:
For renters, share low-cost products like smart power strips or energy-saving showerheads.
For homeowners, share products that require a bigger investment like ENERGY STAR® appliances.
For customers who visit your marketplace, consider sending abandoned cart emails when they leave the site without finalizing a purchase.
For customers who are previous shoppers, share product recommendation emails to encourage them to make another purchase, such as a smart home hub that's compatible with the thermostat they bought.
Share experiences about your energy utility
Engaged customers are excited to share their positive experiences, whether it was how your energy utility handled a power outage or the considerable savings from an incentive. These happy customers are eager to share their experiences online through a thread on Reddit, Nextdoor, a Facebook group or official review channels and satisfaction surveys.
While seemingly counterintuitive, engaged utility customers will also occasionally share negative experiences online. Though this may not seem like a good thing, it shows these customers care and are interested in your energy utility and its services. In comparison, unengaged customers will be disinterested, resulting in silence rather than a chance for rectification.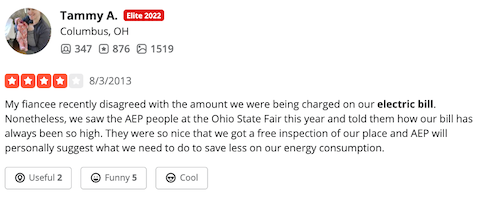 See how an AEP Ohio customer was at first dissatisfied by their electric bill, but by speaking up was able to learn more about available services. This review can help educate other customers who may have the same concern.
Boost Utility Customer Engagement with Every Interaction
Every touchpoint can either positively or negatively affect utility customer engagement. That's why your customer interactions need to provide value, whether you're sharing educational energy topics in a monthly newsletter or promoting a relevant program to a specific segment of your audience.
With these types of digital customer touchpoints in place, your energy utility can then define what an engaged customer means for your energy utility.
What does an engaged customer look like for your energy utility? Learn how to build stronger digital relationships with an engagement strategy from Questline Digital.