Email marketing isn't just a buzzword that industry folks throw around. It's one of the most valuable tools in a marketer's toolbox to connect with customers. The email marketing stats collected by HubSpot speak for themselves:
There are 4 billion daily email users
73% of millennials prefer communications from businesses to come via email
59% of respondents say marketing emails influence their purchasing decisions
Even in the age of TikTok and Instagram, email still has a stronghold in the industry to reach and interact with customers. Ian Brodie, author of "Email Persuasion," even noted, "I've made every classic mistake with email. One of my most costly mistakes was not starting with email soon enough."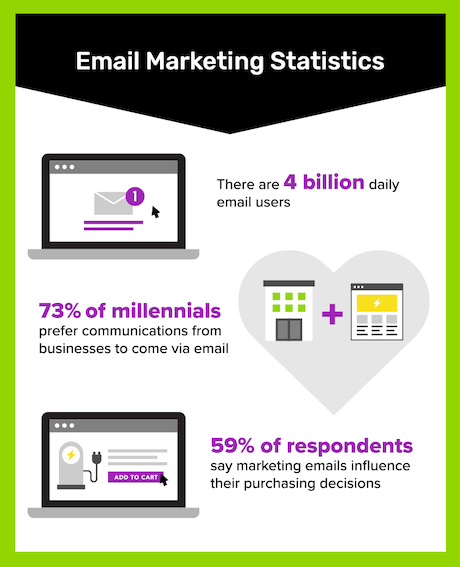 Starting with email isn't typically the issue for energy utilities. However, there are many other common email marketing mistakes that you could be making. Read on to discover five of the worst email marketing mistakes — and how to avoid them.
1. Not Welcoming New Customers
Customers don't just want welcome emails from brands — they expect them. Although energy utility customers often don't get to choose their energy provider, welcoming them to your utility still makes a positive first impression. A simple "hello" can make a significant impact on a customer's journey.
We encourage energy utilities to not just send one welcome email, but a welcome series of three or four messages to start engagement off strong with new or moving customers. According to our 2022 Energy Utility Benchmarks Report, open rates for welcome messages reached 60% in one year.
When customers sign up for service, your utility is fresh in their minds. Use this timing to your advantage to:
Introduce your energy utility
Encourage My Account signups
Share your latest promotions or rebates
Promote paperless billing
Provide energy efficiency resources
Highlight community efforts
2. Not Setting Clear Expectations
There's nothing worse than subscribing to what you think is a weekly email list and receiving daily emails instead. This is a surefire way to make customers lose interest and trust in your utility. The cadence and content of your emails need to meet customer expectations.
Tell them at the beginning of your digital relationship what they can expect from you:
How often you'll communicate
What platforms will be used for communications
What types of content they can expect
Setting these expectations early on will encourage more engagement from your customers. Plus, they'll be less likely to opt-out of communications. This also shows that your energy utility respects your customers' inboxes. After all, email users typically receive an average of 126 emails per day.
It's also important to communicate ahead of time what customers can expect if an outage occurs. Make sure customers know:
How to report an outage
How to check restoration times
How to contact your energy utility
Your utility should communicate early on how often and when customers should expect emails.
3. Not Prioritizing the Customer
Have you ever opened an email on your phone that was formatted so poorly that you couldn't navigate the content? How about one filled with promotional information that wasn't relevant to you? Of course you have. We all have. But that's not how it should be.
Your utility needs to pay attention to your customers' interests and needs if you expect to grow a relationship with them. Instead of putting all your utility's effort into an email that will only look good in a web browser, focus on providing information in an easy-to-digest format. And while your communications can include selling points about a product or service, ensure that information is relevant to that audience.
According to Pew Research Center, more than 85% of Americans own smartphones and 15% of adults are "smartphone-only" internet users. If you're not prioritizing mobile at this point, you're making one of the most critical email marketing mistakes out there. Overdesigning and crowding your email content so much that it doesn't load properly in smartphone windows — or look good in any format — can result in disinterested customers and lower engagement.
Then there is the problem of ensuring applicable content reaches the right audience. To ensure your utility is delivering the right information to the right people you should segment your lists into groups based on:
Residential vs. business customers
Renters vs. homeowners
Customer interests
Purchase history
Program participation
In fact, Campaign Monitor data shows that nearly 21% of consumers say they would unsubscribe from a brand's email list if the content isn't relevant to them.
One last tip: Don't be a robot. Your customers would much rather feel like they're reading a message from a person than a computer. because an energy utility is a corporation doesn't mean your messages can't have a personality. Find out what makes sense for your utility and show the human side of your organization.
4. No Clear CTA
We've said it before, and we'll say it again: Make sure your communications have a clear call-to-action (CTA).
We've all heard the anecdote — if a tree falls in a forest and no one is around to hear it, does it make a sound? Well, if an email is delivered without an effective CTA, did it make an impact?
That answer is simple: No.
The copy in your email could be the greatest writing of our generation, selling benefit after benefit to customers and telling them exactly what they want to hear. But it makes no difference if you don't tell customers what you want them to do.
Do you want them to learn more?
Should they reach out with questions?
Are you directing them to make a purchase at your marketplace?
Can they sign up for a program?
Do you want them to follow your utility on social media?
Emails should serve a purpose. Answer customers' questions before they have them, help them take action, and make sure your CTA is clear and enticing and points to the outcome you hope to drive. Ashley Guttuso, chief strategy officer at Simple Focus Software, made an excellent point about email marketing on LinkedIn. She said, "Don't be an email tease."
Emails create too many hoops for customers to jump through to take action, she explained — from making them open the email, read the email, click a CTA, visit a landing page, click another CTA on the landing page, and on and on. It's a tiring process.
That's why you need to tell customers what you want them to do and make it easy for them to do so.
"You can even use two different CTAs in the email: a button that says, 'Get Started' and a text link that reads 'Learn More' that anchor links to the second section of the landing page [benefits] to deliver the experience they've selected," Guttuso added.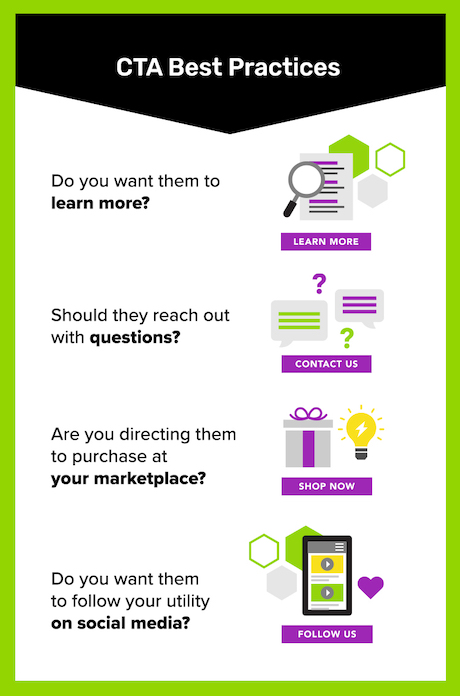 Here are a few simple tips when crafting your CTA:
Make it about the reader by utilizing "my" terminology, like "Update My Outage Alerts"
Make the CTA stand out visually from the rest of the copy
Keep the verbiage short but actionable
5. Ignoring your Sender's Reputation
Regardless of how pure your intentions are with your communications, spam filters could still determine that your emails should be sent to the junk folder or blocked from customer inboxes altogether. If this isn't something your energy utility has kept an eye on before, you could have made some of these common mistakes:
Using stereotypical spam words often
Sending emails to invalid addresses
Receiving low or negative customer engagement with your content
These mistakes can cause your emails to bounce and recipients to unsubscribe. The more frequently this happens, the worse your sender reputation becomes. And, you guessed it: A poor reputation further affects the deliverability of your future emails.
If you've made any of the above errors in the past, your sender's reputation could already be damaged. Luckily, you can remedy this email marketing mistake and improve deliverability rates by:
Allowing customers to select what communications they receive
Use welcome emails to set expectations
Provide excellent, engaging content
Deploy emails on a regular schedule
Check lists for misspelled addresses
Remove inactive subscribers
Fixing past mistakes may take some time, but it will be worth it in the end. You'll create more engaging email campaigns and build stronger digital customer relationships.
Learn From Others' Email Marketing Mistakes
Mistakes happen. It's what makes us human. But these email marketing mistakes don't have to hinder your energy utility's relationship with your customers. Learn from others and try to avoid making these common email marketing mistakes. Your customer engagement and satisfaction will thank you.
The experts at Questline Digital can help you avoid common email marketing mistakes and boost customer engagement.