As energy costs rise and inflation continues to impact household budgets, a growing number of utility customers may qualify for low-income assistance programs. And while these customers share many of the same interests and needs as utilities' general customer base — from an interest in smart home technology to reducing their energy usage — identifying and reaching customers in need of low-income bill assistance is often a challenge for utilities.
To connect with low-income customers, your energy utility needs to take a closer look at this unique audience and what barriers exist to reaching them.
Easing the Energy Burden for Low-Income Families
Low-income customers come from every walk of life, from rural communities to major metropolitan areas. They represent all ages and are made up of households with and without children. According to the American Council for an Energy-Efficiency Economy, low-income households spent an average of 8.1% of their income on energy bills. In contrast, the average U.S. customer spends just 2.3%.
While income is the major characteristic that differentiates this group from higher-income customers, demographics also come into play. The median energy burden is 43% higher for Black households, 45% higher for Native American households, and 20% higher for Hispanic households. These customers look to their energy provider for support and understanding, as well as utility low-income assistance programs to help ease their energy burden.
The reality is that barriers exist for many customers to take advantage of utility low-income assistance programs. One of the biggest hurdles is basic awareness of these programs. In fact, only 46% of these customers are familiar with utility assistance for low-income families to help with their monthly electric bill, according to the Smart Energy Consumer Collaborative's (SECC) research. Awareness was even lower for energy efficiency programs. Only 33% knew about energy efficiency upgrades offered by their energy utility.
Connecting Customers to Relevant Low-Income Assistance Programs
For energy utilities, building awareness is key to driving interest and participation in financial assistance programs. This starts with utilizing various communications to connect low-income customers with relevant programs like low-income utility bill assistance and budget billing.
FirstEnergy took advantage of a segmented email campaign to reach low-income customers in multiple states, including Ohio, Pennsylvania, Maryland, West Virginia and New Jersey. Each message focused on a specific government assistance program that either helped to pay a portion of their energy bill or provided more consistent monthly bills.
The emails utilized personalization with the customer's first name in either the headline or email salutation. Some of the programs were segmented based on homeowners or renters. This email campaign was successful in enrolling customers into utility low-income assistance programs, especially during the winter high bill season.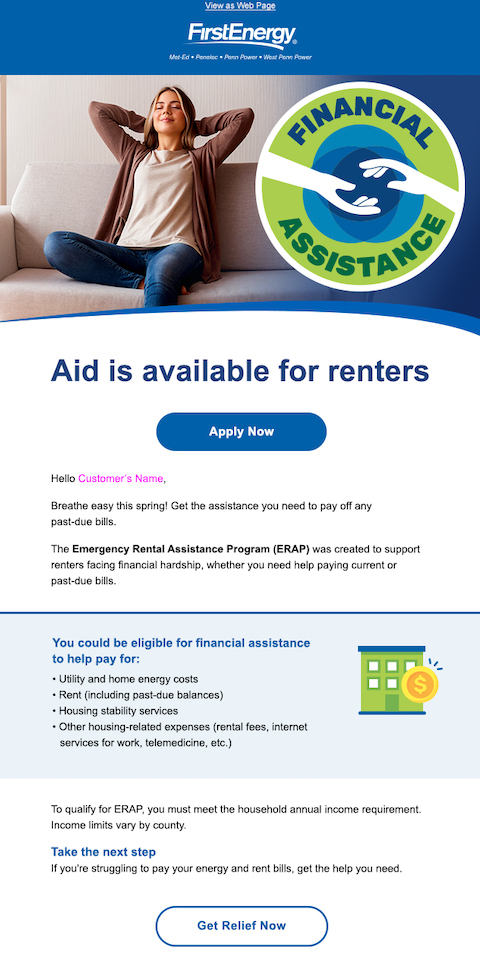 National Grid wanted to get the word out to multiple communities about available financial assistance programs. The utility partnered with Questline Digital to produce a series of four educational webinars. To reach a wide range of customers, the webinars were produced with closed captioning and broadcast separately in Spanish and Portuguese. The webinars also included a video of an American Sign Language (ASL) interpreter.
"The webinar format lends itself to education because of the interactivity," said Brian Lindamood, Vice President of Marketing and Content Strategy at Questline Digital in a recent American Public Power Association webinar. "You can answer customer questions live during the event, and you can also reach a lot of customers at the same time. For the four webinars in this series, almost 9,800 customers registered."
Budget billing is another relevant program to promote to a low-income audience. Encourage customers to sign up for this program to keep their bills more consistent and avoid any surprises.
To relate to customers who face hardship with unexpected expenses like doctor visits and car repairs, Duquesne Light Company used the message, "Life is unpredictable. Your electric bill shouldn't be." The email campaign communicated the key benefits of Budget billing: consistent bills (even with high electric usage) and easier budgeting.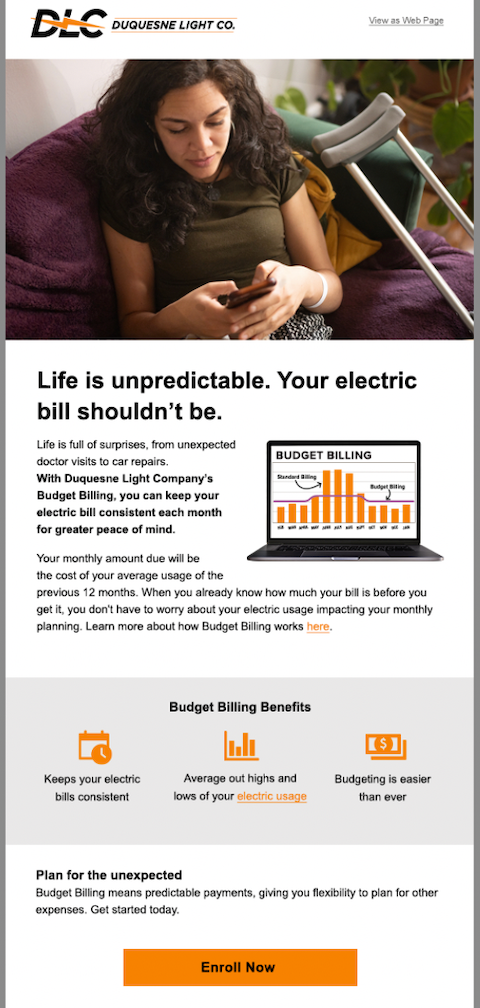 Energy Efficiency Help for Low-Income Customers
In addition to offering payment options to make it easier to pay their monthly bill, low-income customers benefit from energy efficiency tips and advice. To ease the energy burden for both homeowners and renters, energy utilities are making energy efficiency programs a priority.
By improving energy efficiency, low-income customers can better manage energy use in their homes, which has a profound impact on their monthly bills. Energy providers should reach out to low-income customers with energy-saving products and utility low-income assistance programs focused on energy efficiency upgrades.
PSEG Long Island educated income-eligible customers about the utility's Residential Energy Affordability Partnership (REAP) to help them lower costs through a free home energy assessment. Each email message included a testimonial from a PSEG Long Island customer who benefited from the REAP program.
"I'm a huge fan of testimonials," Lindamood said. "If you can get a customer to share their real-life experience with a program that helped, that will really resonate with other customers. Testimonials add a lot of authenticity to your message."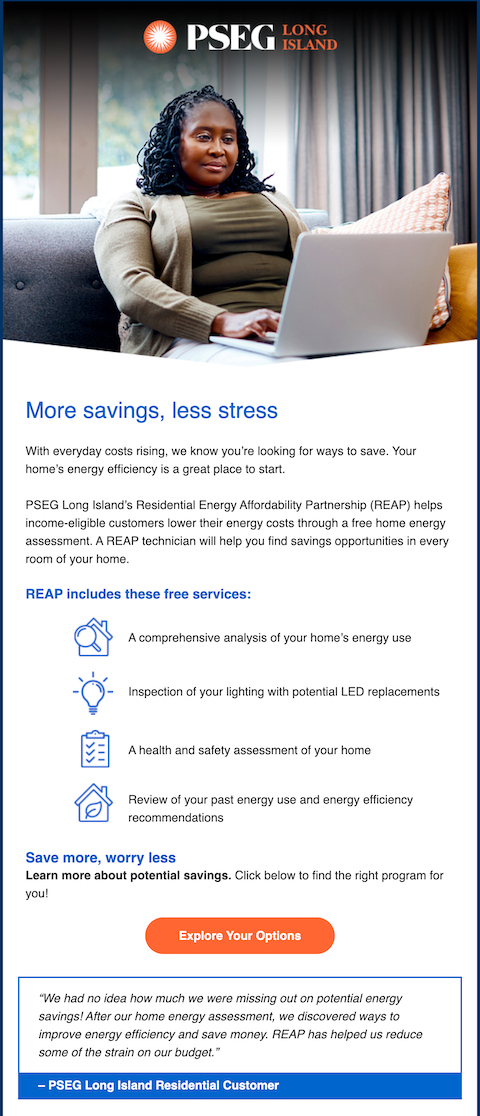 For energy utilities, another aspect of improving energy efficiency is a focus on multifamily building energy efficiency. According to the U.S. Department of Energy, more than 36% of people in the United States currently rent — and 60% of renters live in multifamily dwellings. That's why an increasing number of utilities are creating programs to help property managers make energy efficiency retrofits.
One example is the City of Los Angeles Department of Water and Power's Comprehensive Affordable Multifamily Retrofits Program (CAMR), which helps property owners of low-income multifamily buildings take advantage of energy savings opportunities. The municipal utility has 8,000 multifamily buildings currently in the pipeline. The program, launched in 2022, features three key approaches:
Energy efficiency opportunities
Building electrification (natural gas to electric)
Onsite solar through virtual net metering
"There's a lot of opportunity, but it's a challenging market, especially here in L.A. where we have a lot of old apartment buildings that have not been upgraded in a long time — if ever," said David Jacot, Director of Efficiency Solutions at LADWP. "Many property owners are struggling and don't have the ability to invest in their properties."
Adoption of Smart Technologies for Low-Income Customers
Smart energy technologies, ENERGY STAR® appliances and rooftop solar panels can seem like luxuries to even the typical energy consumer. However, it's not only higher-income customers who have an interest in them. Beyond communications about low-income utility bill assistance, energy utilities should provide educational resources about smart home technology.
When making purchasing decisions, a variety of drivers spark an interest in smart energy technologies for low-income customers. For example, the primary driver to purchase smart thermostats is saving money and making their home more comfortable. When purchasing smart appliances or smart lighting, low-income customers are motivated by the ease of use. For rooftop solar panels and community solar, a passion for helping the environment is a significant motivator.
Despite these drivers, smart energy adoption remains a challenge. According to SECC research, 28% of low-income customers believe that these smart energy technologies are not worth the effort. To encourage adoption, reinforce the fact that these technologies are beneficial for both saving money and maintaining comfort in their homes. It's also important to provide insights on the positive impact on the energy grid and local community.
Reach Utility Low-Income Customers with a Relevant Message
As this research demonstrates, low-income customers share many of the same values and motivations as higher-income customers. To better connect with this audience, it's vital to increase awareness about utility low-income assistance programs, energy efficiency programs and smart energy technologies.
With the right messaging, your energy utility can effectively reach this audience with relevant utility bill assistance and other resources and help them achieve their energy goals.
Learn how a payment assistance campaign from Questline Digital can proactively reach low-income customers with important program information.