Personalized communications are no longer a nice-to-have when engaging with energy utility customers. In fact, 74% of customers feel frustrated when content is not relevant to their interests. For energy utilities, segmentation is critical to better understanding their customers and developing long-term relationships.
In Questline Digital's webinar, "How to Segment and Personalize Utility Customer Communications," our expert speakers Jason McGrade with the Smart Energy Consumer Collaborative (SECC) and Tony Todesco and Kristen Calvano with Con Edison shared insights on how they are using segmentation to improve their research and marketing efforts.
Understanding Utility Customers Through Segmentation
Segmentation is a vital component of SECC's 2022 "Consumer Pulse" report, which focuses on consumer attitudes toward technology and energy. According to McGrade, this was a significant departure from previous reports that focused heavily on the environment. SECC is a nonprofit organization made up of about 150 utility partners working to better serve consumers.
"For this year's report, we really wanted to look at the attitudes and values of utility customers around technology and engagement with their electric provider," McGrade says. "We wanted to know where they stand in that customer journey, so we created five new segments focused on technology and electricity attitudes, moving away from an environmental focus."
SECC commissioned Maru/Matchbox to answer the following questions:
What devices do consumers own and do they use them to save electricity?
How do they view their electricity provider?
What information do they want and how do they want to receive it?
Do consumers know what impacts their bill?
Do consumers know the impact their behaviors have on the grid?
How do these answers vary by consumer segment?
Maru/Matchbox conducted an online survey of 2,500 American households with energy decision-makers (ages 18 and older). The survey utilized Implicit Association Testing (IAT) to better understand what sentiments consumers unconsciously associate with their energy provider. Survey respondents were shown a series of statements and asked to either agree or disagree if it applied to them.
The survey responses created five new customer segments:
Simply Sustainable (28%): Customers who are environmentally conscious and open to new technology.
Connected Pragmatists (22%): Younger and tech-savvy, but not fully engaged with their energy provider.
Green Pioneers (21%): These customers are the sweet spot for utilities. They want to engage with their energy provider to maximize energy savings.
Trusting Traditionalists (17%): These customers have a high level of trust in their energy provider, but they are overwhelmed by technology.
Comfort Seekers (12%): These customers value comfort and convenience over everything else. They are typically older and middle-income.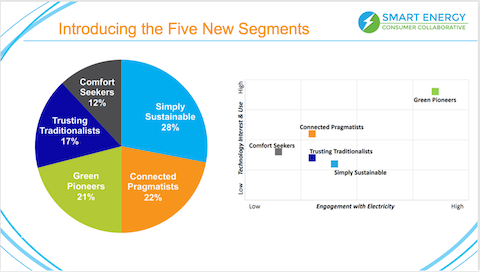 SECC's "Consumer Pulse" report provides insights and advice on the best ways for energy providers to reach these segments of unique customers. To increase trust, most consumers are looking for rebates or discounts and reduced outages. Overall, energy providers are viewed as the best source of information for all segments. The majority of consumers would like to see more energy-efficient products and offers from their provider, with email being the preferred channel, McGrade explains.
Key takeaways from SECC's utility customer segmentation:
Green Pioneers are the ideal customer. They should be the target for new energy efficiency programs and offers.
The Simply Sustainable segment needs further education on technology, while Connected Pragmatists need to develop a sense of urgency toward energy efficiency to take action.
Trusting Traditionalists and Comfort Seekers are the most difficult groups to reach. Efforts should focus more on Trusting Traditionalists due to the high level of trust in their energy provider.
"In terms of the key segmentation, we really want energy utilities to take advantage of these marketing opportunities and better understand who their customers are," McGrade says. "It's not just about marketing to everyone in the same way. Utility customers have individual values that will motivate them to either gravitate toward or away from a particular marketing message."
Uncovering New Utility Customer Segments
Con Edison, which serves 10 million people in New York City and Westchester County, took advantage of segmentation to deliver more relevant marketing communications. The utility has 3.5 million electric customers, 1.1 million gas customers and 1,600 steam customers.
According to Todesco, Con Edison finds great value in survey-based segmentation like SECC's research. To complement survey findings, Con Edison began layering insights from third-party companies to create data-driven segments specific to their customer base.
The utility partnered with Experian Marketing Services to develop personas that uncovered new customer segments, which helped define the marketing strategy for a variety of programs, including heat pump incentives. "Our residential customer database has been appended with these fields so other departments can leverage this data in their analytic platforms as well," Todesco says.
For example, Con Edison has an outreach team that frequently hosts events in local neighborhoods, Todesco explains. They now have a dashboard that allows them to look up zip code-level statistics when preparing for outreach events. The team can use data, such as language preference or the number of families in an area, to help fine-tune their approach.
Leveraging Data to Personalize Utility Communications
The customer analysis created personas for customers who own geothermal heat pumps and mini-split heat pumps. Through segmentation, the marketing team discovered that geothermal customers are more likely to own or be in the market for an electric vehicle. While geothermal customers aren't necessarily innovators in tech adoption, they do have an above-average interest in EVs. With this research, the marketing team discovered a great cross-promotion opportunity between the two technologies.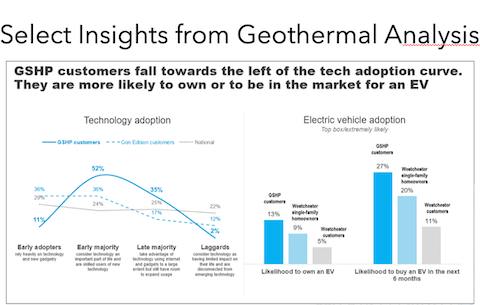 "In marketing, we're primarily using this data to analyze key customer segments, like electric vehicle drivers, solar adopters and low-income customers, and use the findings to refine our marketing strategy and act on opportunities," Todesco says. "This data typically takes the form of personas characterizing specific users of technology. We always learn something new with personas."
The insights for mini-split customers revealed that their homes are much more modest than geothermal homes. They are also older homes (built in 1942 on average) and don't have the ductwork common in post-war construction, making mini-splits a great solution for heating and cooling. According to Todesco, the team was surprised to learn that over a quarter of mini-split installations were occurring in rental units. While not as costly as geothermal, it seemed unlikely that renters would take on such an expense.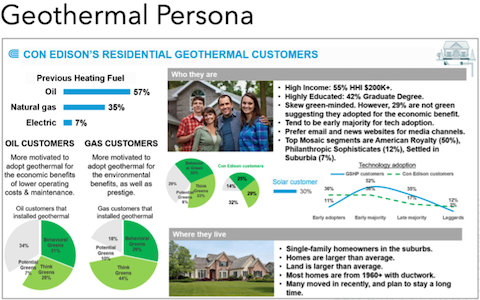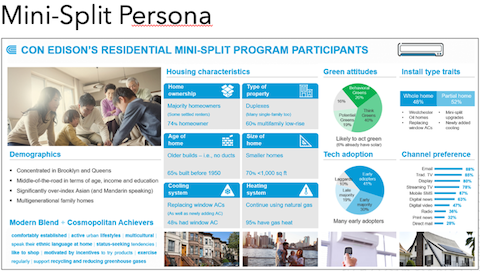 "What we found through the data was that renters had lived in their units almost as long as homeowners," Todesco says. "They are considered 'settled renters' who would be more invested in making their space comfortable. Targeting both long-term tenants and their landlords/property managers presented a new opportunity for us."
Demographically, 44% of mini-split customers are Asian and Mandarin speaking compared to 13% of Con Edison's overall customer base. They are mainly multigenerational family homes based in Brooklyn and Queens. The main takeaway for Con Edison's marketing team is that the heat pump communications should be written in Mandarin to connect with this multicultural segment.
Impact of Personas on Marketing Campaigns
Prior to these findings, Con Edison was utilizing its existing email list of 23,000 oil heating customers to promote geothermal technology. According to Calvano, the messages were mainly based on cost savings. They started seeing a decline in readership despite retargeting efforts and creative refreshes.
When the research team conducted the persona data, the marketing team was able to gain new insights into the detailed demographics of the utility's customers who were geothermal adopters. They used various filters, like home type, mosaic segments, land square footage and home value to create a new list of 13,200 gas customers. The new email campaign consisted of four total sends (to oil and gas customers). The oil customers received a cost savings message, while the new list of gas customers received an environmental benefits message. Both emails surpassed industry benchmarks:
Email to oil heating customers:
1.59% CTR
5.07% CTOR
31.44% Open Rate
Email to gas heating customers:
1.53% CTR
5.84% CTOR
26.27% Open Rate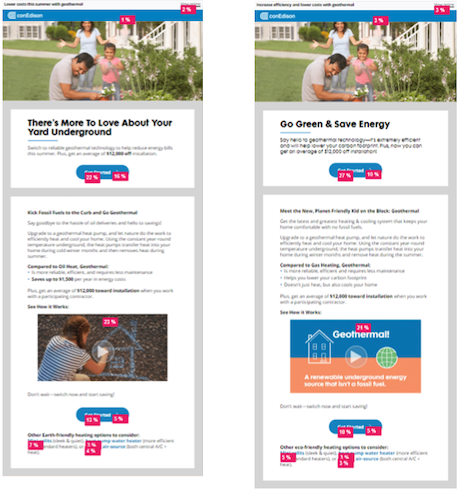 Due to the mini-split offering winding down from overperformance, the marketing team didn't have a chance to utilize the Experian data in 2022. When they first launched the Clean Heating program in 2020, the utility was only targeting single-family homeowners to promote mini-splits. After learning that 26% of mini-split adopters are renters, Con Edison's marketing team plans to expand targeting to renters once the program relaunches in 2023.
Segmentation is the Key to Personalize Utility Communications
For both SECC and Con Edison, segmentation has been vital to better understanding utility customers. According to McGrade, it's best to let the data speak for itself and not make any assumptions along the way. As Con Edison's experience demonstrates, segmentation has the power to create targeted program promotion campaigns that resonate with customers.
Learn how Questline Digital can create a segmentation strategy for your utility to better understand your customers and personalize communications.