Spam emails are a major issue for many internet users. In fact, research shows that out of the 333 billion emails sent worldwide, 85% of those are spam. Although email marketing is still one of the best tools for reaching customers, spam messages can confuse, frustrate or victimize your utility's customers.
As your utility works to make sure its emails aren't susceptible to spam filters or misinterpreted by customers, it's important to debunk the myths surrounding email spam. Additionally, it's important to know the best practices when it comes to email marketing and spam to ensure you're building trust with customers.
The following email spam facts will help your utility keep its customers safe and secure, ultimately leading to higher customer satisfaction.
Myth 1: Spam Words Always Get Your Email Filtered
Email spam myth: "Free," "Save" and "Win" are just some of the words that have been labeled as "spam trigger words," inspiring fear and distrust among customers and their energy utilities who might use them in their subject lines.
Email spam facts: In reality, these words aren't the trap everyone thinks they are. This is a lingering myth from years ago when inboxes were besieged by spammers and email providers used simple content filters to determine what was spam.
Content filters look at subject lines, email content and even the image-to-text ratio. As the spammers figured out how to get around those filters, email providers got more sophisticated. More and more, email providers are evaluating the larger picture to identify spam, including sender reputation, deployment patterns and recipient engagement. Those have more weight on whether your email gets delivered than using previously defined "spam words" in your subject line.
For example, as an ode to this email spam fact, PSEG Long Island deployed a paperless billing campaign in 2018 that promoted free LED lightbulbs to customers who signed up for the program. The utility received extraordinary engagement, including a 21.8% open rate and 7.7% click-to-open rate. The subject line the utility used that received these specific results was, "Paperless = Free LEDs."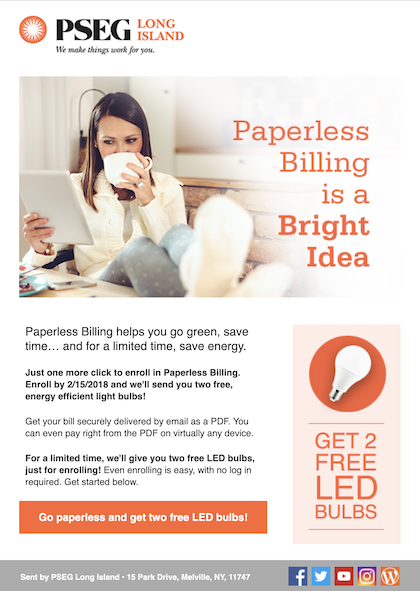 This is proof that including the word "free" doesn't mean your utility's emails will automatically go into spam folders. On the contrary, it might just increase engagement with your utility's customers.
Myth 2: CAN-SPAM Compliance Leads to Automatic Delivery
Email spam myth: Your email meets all the requirements of CAN-SPAM, so it will go straight to your customers' inboxes, right? Not necessarily. As mentioned above, many email providers are using algorithms to determine if an email is considered spam or not.
Email spam facts: Just because your email meets CAN-SPAM requirements it does not guarantee a free ride to the inbox. Overcoming CAN-SPAM is about meeting legal requirements, not deliverability standards. Although meeting CAN-SPAM requirements sets your utility's communications up for better success, it does not guarantee deliverability or email opens from customers.
Instead, to reach customers' inboxes, make sure your utility is abiding by email best practices and sending relevant content to the right audience to keep your sender reputation positive and engagement metrics high. This email spam fact is the way to reach customers' hearts… and inboxes.
One Southeast energy utility grew its customer engagement by creating automated anniversary emails that thanked customers for their business. Rather than developing another transactional email, the utility wanted to create a friendlier touchpoint with its customers. Thus, the anniversary emails were born.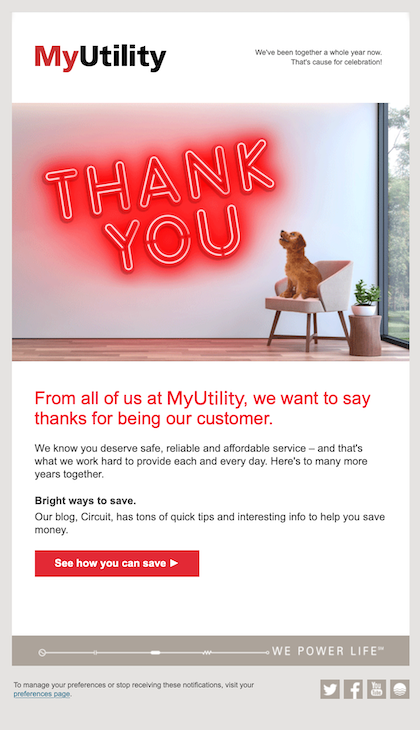 These emails were delivered to both residential and small-to-medium-sized business customers after their first year of service. The emails were personalized to each customer and included helpful links, like newsletter registration, rebate programs and energy efficiency tips. Customer engagement drastically increased from these emails, achieving an average 46% open rate. Additionally, the utility was better able to understand its customers and what they sought from the utility to further develop communications to meet those needs.
Myth 3: There is a Perfect Day and Time to Send Emails
Email spam myth: A popular question in email marketing is, "When is the best day and time to send my emails?" Marketing blogs are full of conflicting answers: send early in the mornings, send Thursdays at 3 p.m., never send on a Monday.
Email spam facts: The truth is, there is no perfect day and time to send your emails. It comes down to one thing: knowing your audience and their preferences. You need to know when your customers are most likely to engage with the emails your utility is sending.
How do you figure this out? When tracking your metrics, include the day and time you sent the email. Then, evaluate the days of the week and times of day where you see high engagement. Don't forget to also look at the type and topic of communication. Maybe your audience prefers to read email newsletters on a different day than when they engage with promotional messages. Testing different times and days for your utility's messaging will help to identify these factors and decipher which days work best for your utility and its customers.
According to Questline Digital's digital marketing data, even the deployment of utility email newsletters and promotional messages differs in time and day. The below charts show the differences calculated in days and times sent between residential and business communications for both email newsletters and program promotions.


While it appears that for residential customers, the best days to deploy a newsletter were Mondays and Thursdays, promotional messages for the same group saw Tuesdays and Thursdays outperform the other days. When it comes down to this email spam fact, customers are in control of when they interact with your utility's emails. The best your utility can do is track and compare against your own performance metrics rather than those of other utilities.
Myth 4: The Bigger the List Size, the Better
Email spam myth: A lot of marketers think that email list growth is always a good thing. While you do want to reach as many customers as you can, you want them to be relevant and engaged, not just along for the ride. Connecting with them isn't as simple as just adding them to your list.
Email spam facts: A good email list is about the quality of your recipients, not the quantity. Every year, your utility typically loses a number of subscribers to abandoned or changed email addresses. Sending communications to these inactive email addresses negatively impacts your deliverability by hurting your utility's sender reputation.
Developing a re-engagement campaign to target inactive subscribers will help your utility clean up your list. Those who want to remain on the list will and those who have inactive addresses will drop from the list. Your utility may lose a portion of its list recipients, but in the end, the quality of your utility's email list will improve, as will your email deliverability, and your utility will start seeing better results.
Separating Email Facts from Fables
Many of these email spam facts come down to knowing your utility's customers and audience. Continue to test and analyze your utility's communications to see what works and what doesn't. In doing so, your utility will be better able to communicate with its customers and ensure its emails are reaching their inboxes, not their junk folders.
The digital deployment experts at Questline Digital can help you separate email marketing myths from best practices.